World news story
Delegates from top 12 British universities visited Chile
This was published under the 2010 to 2015 Conservative and Liberal Democrat coalition government
During their stay, the delegates met a range of Chilean universities, the Ministry of Education and the Science and Technology Council.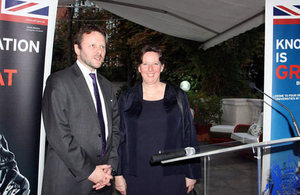 High level delegates from 12 British universities visited Chile the week of 17 March to deepen their partnerships with the country, becoming the first large international education delegation to visit under the new Chilean government.
The delegation was headed by Professor Colin Grant, International Vice Rector of the University of Bath and member of the strategic advisory council of Universities UK, the representative body for the university sector in the UK, which organised the mission. The delegation will lead to greater partnerships with Chilean counterparts in terms of research, student and academic exchange, English and technology transfer, amongst other areas. During their stay, the delegates met a range of Chilean universities, the Ministry of Education, CONICYT (Science and Technology Council) and CRUCH (Higher Education Council), amongst others. The visit was particularly timely given the upcoming UK-Chile Newton Fund – a new $20m fund over three years for new partnerships between the UK and Chile in science and innovation.
The Universities represented on the visit were: Bristol, Bath, Warwick, Edinburgh, Sheffield, Durham, Cranfield, Ulster, Northumbria, Glasgow Caledonian, Middlesex and Kent.
During the delegation visit, the British Ambassador to Chile, Fiona Clouder, gave a reception in honour of the university representatives in the Ambassador's residence, with attendees from universities, the public and private sectors and UK university alumni. The Ambassador commented, on the occasion of the reception:
I'm delighted to welcome representatives of 12 of the UK's top universities to Chile. They are an indication of the strong interest from the UK in building closer links with Chile in education, science and innovation, a crucial priority for the new Chilean government. This is an area I am personally very dedicated to, given my own background in these subjects, particularly given my previous career, before I was a diplomat, working in the UK Research Councils (the equivalent of CONICYT). This visit will be just the start of many longer term interactions between the UK universities and Chile.
Further information
For more information about this event, contact Karl Zammit-Maempel, Head of Economic Affairs and Climate Change at the British Embassy Santiago.
For more information about the activities of the British Embassy in Santiago, follow us on: