News story
Defence equipment plan benefits Scotland
Scotland Office Minister welcomes Ministry of Defence's spending plans.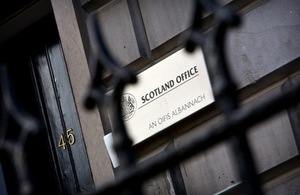 Plans for Ministry of Defence spending in Scotland were outlined today in the third annual update to the UK Government's defence equipment plan.
Scotland Office Minister David Mundell welcomed the publication of the annual update to Parliament on MoD spending plans over the next decade.
The update sets out plans to spend around £163bn on new equipment and support over the next 10 years across the UK. It also shows an independent audit found the cost of the department's 11 biggest equipment programmes fell by £397m in the past year.
Mr Mundell said:
This publication provides a long term view about where defence is planning to invest in military capability which increases certainty for the UK's defence industry. It is a realistic and affordable plan which provides excellent value for money to the taxpayer and further underlines the UK Government's long term commitment to the defence industry in Scotland and to our dedicated and talented workforce.

The UK's defence industry is worth billions of pounds and generates economic benefits for communities across Scotland, and right through the supply chain through jobs, contracts, and supporting services. This includes building the Queen Elizabeth Class Carriers at Rosyth, the three new Offshore Patrol Vessels being built on the Clyde and the substantial investment in the facilities at Faslane.

We've taken difficult decisions to rebuild our economy and balance the defence budget. Now we are in a position to invest significantly and plan for the next decade's worth of investment, this brings substantial benefits and opportunities for Scotland.
Published 13 January 2015