Deanna is poster girl for national apprentice drive
A young Sellafield employee has been hand-picked by the government to front a national apprenticeship campaign.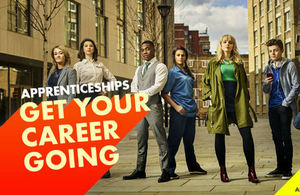 Deanna Pearson, a 22-year-old from Cockermouth, was chosen over 200 other apprentices to take part in the Department for Business, Innovation and Skills' 'Get In Go Far campaign which aims to show vocational training as an exciting alternative to further education.
From billboards up and down the country to a national TV advert, Deanna, a former apprentice and now full-time Health Physics Monitor at Sellafield Ltd, is playing a leading role in the campaign alongside 8 other trainees from some of the UK's leading apprentice employers such as JCB and the Premier Inn.
The campaign, launched on Monday 16 May, aims to tell the real story of young people in training, showcasing the experience they have when entering the world of work for the first time.
Speaking about being chosen to take part in the campaign, Deanna said:
I was shocked when I was first asked to take part. I never expected to be chosen as the face of a government campaign, but I'm really pleased that I've been given this opportunity to represent the high calibre of young people we have here in Cumbria and at Sellafield Ltd.

It was really strange when I first saw the advert for the first time. I've still not quite got my head around the fact that I'm one of the faces of a national government campaign!
Over a series of weeks earlier in the year, a film crew spent time with Deanna at her home in Cockermouth and at work in Sellafield, following her story of how she juggled her apprenticeship with being a young mum.
She said:
The usual route into a career after school is university. A lot of my teachers were pushing me to do this but I knew it wasn't feasible for me as I've got a little girl.

I wanted to be able to work and I needed to earn money to support my daughter, but I didn't want to stop learning and getting qualifications so it made sense for me to follow the apprenticeship route.

There are many different career routes that young people can choose now, it can be quite overwhelming. This campaign – which is giving thousands of young people role models who they can relate to and look up to – will help more young people understand and consider an apprenticeship and I'm so pleased that I've been chosen to be a part of it.
Commenting on the campaign, Minister for Skills, Nick Boles, said:
This campaign will show young people and their parents the great things you can achieve if you choose an apprenticeship. Our campaign stars, like Deanna, and the millions more young people who have already benefited, are shining examples of how an apprenticeship can take you into any industry, any job and up to any level, including a degree.

Apprenticeships are now designed by top employers who are best placed to know the skills and experience young people need to get a job and get on. We're committed to 3 million more apprenticeships by 2020 because we're determined to help young people succeed.
Go to the Get in Go Far website where you can find out about the apprentices in the campaign and get advice on apprenticeships.
You can also use the hashtag #GetInGoFar to join the conversation on Facebook, Instagram and Twitter.
Published 16 May 2016