David Mundell in Glasgow to see how Olympics is benefiting Scottish business
The Scotland Office Minister David Mundell visited Barr Construction which built the Olympic basketball stadium today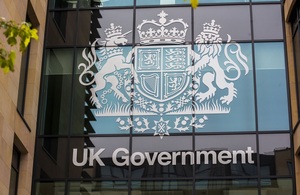 The Scotland Office Minister David Mundell visited the Scottish firm which built the Olympic basketball stadium in Glasgow today to see first-hand how Scotland is already benefiting from London hosting the 2012 Olympic and Paralympic Games this summer.
The Minister took a tour of Barr Construction to hear more about the challenges of building one of the largest temporary venues ever built and met with management and staff who had worked on delivering the project.
 David Mundell said:
"The Olympic year is going to be a great success for every part of the UK, including Scotland. Barr Construction has had a key role to play in delivering the Olympic facilities on time and on budget - they are a great example of just one of more than 100 Scottish companies doing well from the Games and the economic growth they are bringing to the whole of the UK.
"In addition to Scotland hosting a number of pre-Games training camps and Olympic football at Hampden , we will also have a number of Scottish Olympians competing in the Games. I am sure the whole country will support them and this once in a lifetime event." 
This morning, the Secretary of State for Scotland Michael Moore attended a Cabinet meeting on the Olympic Park in Stratford, East London, chaired by the Prime Minister David Cameron. The meeting focused on how every part of the UK can take full advantage of the Olympic and Paralympic Games and the unique chance that that the country has to sell itself to a massive international audience.
This afternoon, Cabinet Ministers are visiting towns and cities across the United Kingdom to see for themselves how businesses, sports facilities, schools and organisations are benefiting from the Olympic and Paralympic Games.
With little over seven months before the opening ceremony, the construction phase is 95% complete and the project continues to be on time and on budget. Since work began on the East London site in 2008, £6.39billion worth of contracts have been awarded to over 1500 business in the UK.
 More than 100 Scottish companies have secured tens of millions of pounds of contracts related to the Games, with 25 Scottish firms being directly involved in building the Olympic Park, including:
- Barr in Glasgow - which helped to build the basketball arena, one of the biggest temporary venues ever built
- Impact Test Equipment in North Ayrshire - which provided aggregate for the Aquatics Centre
- Balmoral Sectional Tanks in Aberdeen - which supplied utilities for the Olympic Stadium
Many more Scottish firms have picked up other Olympic-related contracts - from producing official Games merchandise, to providing temporary power across many of the Games venues.
Secretary of State for Culture, Olympics, Media and Sport, Jeremy Hunt said:
"London 2012 gives us an opportunity to showcase the best of Britain to the world and what this country has to offer. From our beautiful countryside to historic sites, sporting venues to our amazing cultural offer Britain really does have something for everyone. I am confident that we will put on a sporting spectacular this summer with some magical, medal moments that we will never forget and that will inspire many young people to get involved in sport."
Published 9 January 2012