Press release
Dart Charge campaign moves to the next phase
The Highways Agency has launched new advertising to inform drivers about the changes at the Dartford Crossing and what they need to do.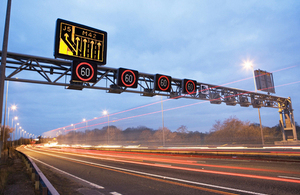 This is part of a long term £1.1m campaign to support the changes and has already included over 5 million leaflets sent to drivers within 50 miles of the Crossing.
The new payment arrangements - known as Dart Charge - will help reduce congestion and ease traffic flow at the Crossing as drivers will no longer stop to pay at the barriers. The last cash payment will be taken at the Crossing around 10pm on Saturday 29 November.
Highways Agency Project Manager, Nigel Gray said:
"We know we have got to do everything possible to ensure that everyone that uses the Crossing is aware of the changes coming in on Sunday 30 November. We are investing in a campaign to encourage drivers to be prepared for the changes and I would advise anyone who uses the Crossing, whether regularly or not, to make sure they are ready."
Posters will be displayed at several locations, including the motorway service areas, and radio adverts across the East and South East England. And the radio advert can be viewed on YouTube
Other parts of the campaign already carried out include:
flyers in DVLA tax disc reminders
public exhibitions at Bluewater and Lakeside shopping centres
social media channels
working with stakeholders
development of foreign language leaflets
From 6am on Sunday 30 November drivers will have more flexibility about when and how they pay the charge, paying either in advance or by midnight the day after crossing. Payment can be made online, by phone, by post or at one of thousands of payzone retail outlets.
Drivers can set up their pre-pay account, which is the cheapest and easiest way to pay the Crossing charge via the Dart Charge website. The Highways Agency will be contacting existing DART-Tag customers to explain how to transfer to a new Dart Charge account and continue to get discounts on crossings.
The charge to use the Crossing will also increase from Sunday 30 November, as announced by the Department for Transport in May 2012. View table of charges.
The crossing will remain free between 10pm and 6am and the Local Residents' Discount Scheme remains in place.
Work to remove the payment booths and introduce a new road layout will begin at the end of November to coincide with Dart Charge launching and will be substantially completed by the end of April 2015, which is when drivers will feel the full benefits of the improvements. All road works are being planned to minimise disruption.
To find out more about Dart Charge, or to register for updates please visit www.gov.uk/highways/dartford
Dart Charge – Frequently Asked Questions
Dart Charge is a massive change to how people use the Dartford Crossing. Here are answers to some of the most frequent questions about the new payment arrangements:
When will the new payment arrangements be introduced?
Dart Charge will be introduced at 6am on Sunday 30 November 2014.
Why are you making the changes?
Removing the need to stop and pay at the barriers will ease congestion and speed up journeys for everyone.
How will I pay?
From 30 November you will be able to make one-off payments:
online at www.gov.uk/dart-charge
by phone on 0300 300 0120
by post to PO Box 842, Leeds, LS1 9QF.
at one of thousands of Payzone retail outlets
Alternatively, you can set up a pre-pay account now and receive savings of up to one-third on every crossing made during the charging hours (6am – 10pm) from 30 November.
How can I set up a pre-pay account?
online at www.gov.uk/dart-charge
over the phone on 0300 300 0120
by post - call us on the number above and we'll send you a registration form.
What happens if I already have an account with DART-Tag?
There is no need to set up a new account – we'll send you personalised instructions shortly to tell you how you can quickly and easily transfer to Dart Charge.
I don't want an account, when can I pay for an individual crossing?
You will be able to make one-off payments from the 30 November; the day the new charging services go live.
When do I need to pay the charge?
The charging hours are between 6am -10pm every day. It will still be free to use the Crossing between 10pm and 6am. If you don't set up a Dart Charge account you will need to pay the charge in advance or by midnight the following day for every crossing you make within the charging hours (6am – 10pm) after the 30 November.
What happens if I don't pay?
If you do not pay by midnight after crossing, you will face a penalty.
Where can I find further information?
Further information and answers to frequently asked questions can be found at http://www.gov.uk/highways/dartford and everyone can subscribe to receive updates via this page
General enquiries
Members of the public should contact the Highways Agency Information Line on 0300 123 5000
Media enquiries
Journalists should contact the Highways Agency press office on 0844 693 1448 and use the menu to speak to the most appropriate press officer
Published 7 November 2014