World news story
Creating jobs and improving working conditions in Bangladesh's garment industry
Progress made by the UK aid-funded Responsible and Accountable Garment Sector (RAGS) Challenge Fund through partnership with major UK buyers.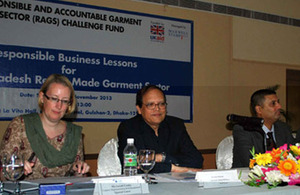 On 16 November, Bank of Bangladesh Governor Dr Atiur Rehman and Vice President of the BGMEA Reaz Bin Mahmood joined DFID Bangladesh Country Representative Sarah Cooke at an event in Dhaka looking at how partnerships with buyers in the garment industry can help bring about much needed reform to the sector.
The UK aid-funded RAGS Challenge Fund (Responsible and Accountable Garment Sector) has been working in Bangladesh in partnership with major UK buyers, such as Tesco, Marks & Spencer and Mothercare, and NGOs. It has found practical ways to improve working conditions and safety in the garment sector. Better human resource management and communication between employees and managers can benefit owners, managers and worker alike – through productivity gains, increased pay and cuts to excessive overtime.
Speaking at the event, Sarah Cooke said, "The UK aid programme globally is putting more emphasis on supporting economic development and jobs. We know that a dynamic private sector drives job creation. Our approach to promoting economic development includes encouraging more investment from overseas and working directly with businesses. The RMG sector has brought about a radical social change in Bangladesh by providing large numbers of rural women with their own income and allowing them to contribute to family finances. Jobs in the garment sector have also provided an alternative to early marriage and potential access to healthcare and education."
On the challenges that still beset the industry she commented, "I have visited and seen a number of garment factories in the last year and have learned at first-hand the wide range of factory conditions that exist here. While some factories are truly first-class, others are clearly sub-standard and pose real threats to the people who work in those premises. We must all combine our efforts to ensure that Bangladeshi workers do not face these extreme risks – and indeed can continue to make clothing that puts the country amongst world leaders, and in factory conditions that are safe, with reasonable working hours and a fair reward for their work."
Working with Impactt and buyers Arcadia, Marks & Spencer, Mothercare, New Look, Sainsbury's and Tesco, RAGS has demonstrated that better pay and working conditions can go hand in hand with better productivity, as well as providing the tools and know-how to create change. In participating factories, daily efficiency and daily productivity increased by 18.28% and 17.07% respectively. Average monthly take-home pay increased by an average of 491 taka (7.63% – equivalent to an increase in annual pay of £3.4 million across the workers employed by participating factories).
A specialist management training centre supported by Tesco in partnership with RAGS has achieved a balance between reducing working hours and increasing pay by encouraging companies to introduce a production bonus. It is training mid-to-lower level factory management teams in world-leading efficiency and productivity techniques. In turn this will provide a sustainable platform to help support the long-term competitiveness of Bangladesh as a sourcing destination.
With ActionAid Bangladesh, RAGS has reached over 208,000 workers with basic training on labour laws as well as how to approach owners of factories to negotiate better working conditions. "The General Manager asked me to show him the overtime calculation and I confidently worked this out myself," reported one worker who at first was neither aware of the overtime payments she was due nor how she would calculate her wages. The project has set up worker-management mediation committees, helped owners and managers understand the importance of compliance and gender-friendly workplaces, and promoted discussions about a living wage.
Through People Tree, RAGS has increased the efficiency of Bangladeshi fair trade organisations, by introducing individual producer workbooks, enhancing design and quality, and introducing joint procurement for yarns, leading to better profitability – for example through reduced chargeback due to delays (including airfreight) and creating the potential for longer-term income gains for producers. This is helping to increase the number of vulnerable people, mainly women, working under fair trade conditions.
Industry and development experts at the event also discussed the overall progress made by RAGS and how it complements Bangladesh's national action plan, which UK aid is also supporting through £4.8m funding of an ILO project launched in October.
Further information
Over the past three years the RAGS Challenge Fund has acted as a stimulant and catalyst for sustained improvements in working conditions for vulnerable workers in the readymade garment industry in Bangladesh, India, Lesotho and Nepal. Nearly £3 million has been committed to support 11 projects that improve the working conditions of some 280,000 workers.

Further information about the programme can be found here
Published 16 November 2013
Last updated 16 November 2013
+ show all updates
Included worldwide priorities
First published.