News story
Countdown to launch: new UK Principia website now live
With just 3 months to go before astronaut Tim Peake launches into space, get involved with his mission using the new UK Principia website.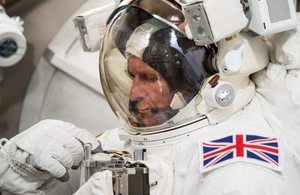 We are busy rolling out an exciting programme of education and outreach activities for young people across the country.
From space experiments to family shows, a wide variety of exciting projects and activities can be found on the Agency's Principia website. Launched this week, and named after Tim's mission, the new website will bring the Principia mission to the nation, acting as a one-stop shop for everything Tim Peake and featuring information about big activities such as the launch-day celebrations taking place across the country.
When Tim launches into space in December he will be the first British astronaut to live and work on the ISS. He was selected for his mission in May 2013, following the government's increased investment in the European Space Agency and first time investment in the ISS programme.
Tim's mission is named Principia to honour the great work of Sir Isaac Newton, which laid down the laws of gravity and motion that are key to the world of spaceflight. When he reaches his temporary home in space, Tim will start his own programme of scientific discovery. With the ISS being first and foremost a place of science, he will be working on experiments that cannot be done anywhere on Earth.
Most of the projects running alongside Tim's mission have some element of science or technology in them, cover a range of curriculum-linked activities and use the mission to inspire young people and increase interest in STEM subjects.
Published 18 September 2015