World news story
Contributions of three Brits in UAE recognised in Queen Elizabeth II birthday honours list
Her Majesty Queen Elizabeth's birthday honours list 2015 included three British nationals living in the United Arab Emirates.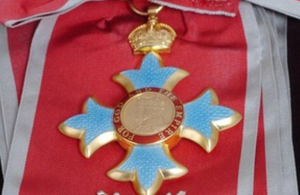 Paul Griffiths, Robert Stokoe and Sandra Owen were recognised for their services to the UK overseas.
Paul Griffiths, Chief Executive Officer, Dubai airports and Vice President of the Royal College of Organists received a CMG (Companion of St Michael and St George) for his services to British prosperity and to music.
Robert Stokoe, Director at Jumeirah English Speaking School, Dubai received an OBE (Officer of the British Empire) for his services to education.
Sandra Owen, Governor at The British Community Assistance Fund received an MBE (Member of the British Empire) for her services to the British community in the United Arab Emirates.
Commenting on the selection, Her Majesty's Ambassador to the UAE Philip Parham said:
I talk often of my immense pride in the contributions to the UAE of the British government, British businesses and individual British men and women. From the building and designing of the UAE's most iconic infrastructure to the running of its biggest projects, British contributions can be seen everywhere. Honours bestowed by Her Majesty Queen Elizabeth II are one way in which we are able to recognise the achievements of those who do so much to make us proud. I am therefore delighted that Sandra, Robert and Paul have been recognised in The Queen's 2015 birthday honours list for their contributions, which have benefitted both the UK and the UAE. Congratulations to them all for their deserved recognition.
Her Majesty's Consul General Edward Hobart said:
Her Majesty The Queen recognises the fantastic contributions of British people abroad through these honours. The UAE and UK have an historic and strong partnership, and these three individuals are manifestations of that. Sandra and Robert have educated and supported thousands of Dubai residents. They have served not only the British but far wider interests, playing leading roles in this diverse community. Paul throughout his career in business and as a top class organist has exemplified the best of British leadership and innovation.
Also recognised, with an MBE, for services to education, is Mark Leppard who is residing in Qatar and will soon take over as Headmaster at the British School of Al Khubairat in Abu Dhabi.
Contact for this press release
Sam Kelly
Press and Public Affairs
Tel: +971 4 309 4444
Published 14 June 2015