Press release
Consultations launched for Dartford free-flow
Two consultations in support of a project to improve traffic flow at the Dartford-Thurrock River Crossing are launching soon.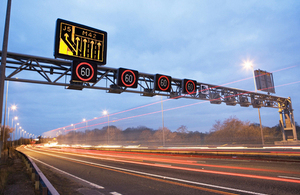 Two consultations in support of a project to improve traffic flow and ease congestion at the Dartford - Thurrock River Crossing are being launched on Monday. Both consultations will lay the legal foundations for changes to how road user charges will be collected and enforced under a free-flow operation at Dartford.
Free-flow technology will allow motorists to use the Dartford Crossing without having to stop at barriers to hand over payment. It will allow the remote collection of payment through a variety of methods including telephone, text message, online, and at retail outlets – giving motorists greater flexibility in how and when they pay the charge.
There are 2 consultations:
the 'Charging Scheme Order' is being led by the Highways Agency and is a chance for local residents, authorities, businesses and emergency services to comment on proposals to give drivers options to pay the charge after they have used the Crossing, and the proposed enforcement measures that would be used under free-flow when it comes into effect
the 'Enforcement Regulations' is being run by the Department for Transport and is aimed at possible charging authorities which would include local authorities and the Highways Agency. It aims to collect views on how road user charges should be enforced, ahead of free-flow being introduced at Dartford.
Free-flow charging is part of a package of planned improvements being carried out by the government to improve motorists' experiences in using the Dartford Crossing. Discounts will remain in place for those that set up an account and pay in advance and for those that qualify for the local residents' discount scheme.
Roads Minister Stephen Hammond said:
By removing the barriers at the crossing congestion will be reduced and traffic flow will improve for all motorists – but that means the way payment is collected will change.

We need to make sure we have steps in place to allow enforcement against drivers who do not pay their road user charge. How and what will happen needs to be decided and that is exactly what the Enforcement Regulations consultation will do.
Nigel Gray, Highways Agency senior project manager, said:
The Dartford Crossing is a crucial piece of national infrastructure that brings economic benefits to the region and the whole country. We understand how frustrated motorists are and that is why tackling congestion here is an absolute priority.

The draft order sets out how the charge at Dartford will operate and how we propose to enforce it under a free-flow charging arrangement.
Road users will be encouraged to pay the charge in advance of their use of the crossing. Proposals detailed in the Charging Scheme Order consultation set out the charges that will apply, and will allow road users to pay at the standard rate up to midnight on the day of using the crossing or at the standard charge plus 20% on the following day. After this the proposed penalty charge for non-payment would be £70, with a reduced rate of £35 if paid within 14 days. If the penalty is not paid within 28 days it is proposed that it would increase to £105.
A statutory public notice has been published by the Highways Agency in the technical and local press ahead of the 'Charging Scheme Order' consultation opening on Monday. Consultees have until Monday 28 January 2013 to make their comments. Both consultations will be available from Monday 5 November 2012.
The Charging Scheme Order can be viewed on the consultation page of the Highways Agency's website, and at Dartford Borough Council and Thurrock Council offices. The Enforcement Regulations consultation will be available on the Department for Transport's website.
Notes to editors
The Highways Agency is an executive agency of the Department for Transport. We manage, maintain and improve England's motorways and other strategic roads on behalf of the Secretary of State for Transport.
The Dartford – Thurrock River crossing is a vital transport link over the lower Thames estuary to the east of London. Comprising of 2 tunnels (each carrying 2 lanes northbound) and a four lane cable stayed bridge for southbound traffic, it is one of the busiest transport gateways in the country, carrying around 150,000 vehicles every day.
Tackling congestion at the Crossing is a priority for the government. Improvements include suspending the charges during periods of heavy congestion following an incident, introducing free-flow charging to tackle congestion and improve journey times at the Crossing, and continuing work on analysing the options for a new Lower Thames crossing.
The introduction of free-flow charging at Dartford is being progressed to the following timescale:
Summer 2012, start procurement process for customer charging and enforcement management services contract (underway)
Autumn 2012, start public consultation on secondary legislation
Winter 2012 to 2013, invite tenders for customer charging and enforcement management services contract
Summer 2013, Statutory Instrument laid before parliament
Autumn 2013, contract award of customer charging and enforcement management services
Summer 2014, technical go-live, controlled testing and integration
Autumn 2014, full operation of free-flow charging at Dartford
A statutory public notice regarding consultation for the draft new Charging Scheme Order that would support free flow charging was published today (1 November) in the London Gazette and Dartford Messenger and will be published in tomorrow's Thurrock Gazette (Friday 2 November).
Statutory consultees, as well as other public bodies, organisations or businesses, and members of the public are invited to comment on the plans, which are specifically related to the Dartford Crossing, and set out how the charge will be collected, and how it will be enforced under a free-flow charging arrangement. The consultation will run for 12 weeks, until 28 January 2013.
Neither consultation asks consultees to comment on the Dartford road user charge rates. DfT consulted in 2011 on proposals to revise the road user charge at the Dartford Crossing, and published their response to this consultation in May 2012. No further changes to the road user charge rates at the Dartford Crossing are proposed for the new Charging Scheme Order or the Enforcement Regulations.
Real-time traffic information for England's motorways and other strategic roads is available:
from the web at www.highways.gov.uk/traffic.
by phone from the Highways Agency Information Line on 0300 123 5000 at any time (calls to 0300 numbers will cost no more than 5p per minute from a standard BT residential landline, call charges from other landlines and mobile networks may vary, but will be no more than a standard geographic call and will be included in all inclusive minutes and discount schemes - make sure it's safe and legal before you call and before using any mobile, find a safe place to park, never stop on the hard shoulder of a motorway except in an emergency)
on an iPhone app which will automatically select the region you are in - free to download from the iTunes store or search for Highways Agency on your device.
from Twitter – there are 8 feeds with live traffic information provided by region, for information on roads in the south east region follow us @HAtraffic_seast or for the full index visit www.highways.gov.uk/twitter
Receive our national and regional press releases by RSS and get the latest headlines straight to your desktop the moment we publish them to our website. Choose to receive a national press feed or one of our regionalised feeds - go to www.highways.gov.uk/rssnews for more information.
Issued by the Highways Agency.
For further information on the Charging Scheme Order please contact Jane Manning, James Wright or Andrew Broughton. Tel: 01306 878110, 878442 or 01883 745364.
For further information on the Enforcement Regulations please contact Melanie Purkis at the Department for Transport press office on 0207 944 4604.
Media enquiries out of hours should be made to the Highways Agency National Press Office (24hrs) on 0844 693 1448.
Published 1 November 2012