World news story
Connecting the Dots - Engaging with elected representatives of Odisha on climate change
The Odisha chapter of the parliamentarian engagement on climate change was successfully conducted in Bhubaneswar on 23 March 2013.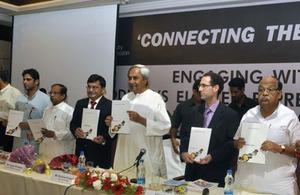 Odisha is one of the six states enlisted for this parliamentarian campaign. The idea was to engage with elected representatives of the state and get them to deliberate on climate change and energy security in Odisha.
A draft toolkit, 'Connecting the Dots: Contextualising Climate Change' in English and Oriya has been developed and was launched by the Chief Minister of Odisha Mr Naveen Pattnaik, Deputy High Commissioner, Eastern India Sanjay Wadvani and British High Commission-DFID Climate Change & Development Team Leader Greg Briffa along with the environment minister and other ministers/members of parliament. The programme drew a lot of interest from the MLA's and Zilla Parishad members some of whom travelled from remote constituencies to attend the programme.
The Chief Minister in his remarks, highlighted the setting up of a 'Green Energy Development Corporation' to promote green and renewable sources of power including solar, hydel and bio-mass energy in Odisha. The Environment Minister, Bijayshree Routray talked about the State government commissioning a study for assessing the carbon footprint of Odisha—the study is expected to provide significant inputs for devising a low carbon growth strategy for the State. Member of Parliament B J Panda encouraged the MLA's and Panchayat members to pro-actively address issues of climate adaptation and mitigation in their respective constituencies. Greg Briffa gave a presentation highlighting on the UK perspective of legislating to tackle climate change. The Deputy High Commissioner Sanjay Wadvani touched upon the current projects- the LED street lighting project and the fiscal instruments project to help governments to design low carbon policies and to support improved energy efficiency technologies. Other attending MPs included Kalikesh Singh Deo, Prassana Patasani, Bhakta Charan Das, Minister of Revenue and Disaster Management- Surya Narayan Patro.
As most of the participants deliberated in Odiya, our local partner for the event, Centurion University helped to interpret the programme highlights in English.
Published 26 March 2013