Communities to get more barrier-breaking powers
Community groups, social enterprises and volunteers keen to get things done in their area will have new rights to ensure their bureaucracy cutting…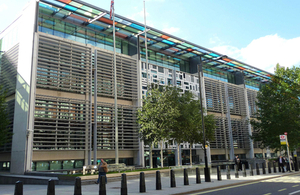 Community groups, social enterprises and volunteers keen to get things done in their area will have new rights to ensure their bureaucracy cutting proposals get heard, Decentralisation Minister Greg Clark announced today.
The Sustainable Communities Act provides a way for people to ask, via their local council, that central government removes barriers that hinder them from improving their area.
Many community action groups have come up against bureaucracy that holds them back from delivering innovative ideas that will make their village or town a better place to live - such as planning regulations or bye-laws. The Act provides a clear process to reduce or remove barriers affecting local action.
Groups or individuals using the Act will now have more opportunity to ensure their bureaucracy cutting proposals are successful. New regulations being introduced this week include a new light-touch duty that ensures previously dismissed proposals can be reconsidered.
A third party 'selector' will be able to provide a robust challenge by asking Government to review its decision on behalf of a local authority so that the Government has to fully justify its reasons for rejecting the original proposal, making it more accountable.
The Government will also need to consult and try and reach an agreement with the 'selector' before a decision is made on whether the proposal should be implemented.
Greg Clark said:
Local people often have great ideas for their areas and are keen to improve their neighbourhoods yet are met with a plethora of rules and regulations that do nothing but stand in their way.

Ensuring people can challenge these rules will make the Government much more accountable for the rules it implements. Government's role should always be to support local people, not stop them.

These new regulations help enforce that notion and put the power where it belongs, at the local level. They will help replace the implicit 'no' to improvement in our cities, towns and villages with an explicit 'yes'.
A consultation on whether town and parish councils should be given the power to submit Sustainable Communities Act proposals was also launched today. Currently they have to submit their proposals via their local authority.
The consultation recognises the important role these councils play in their area and acknowledges they often know best the barriers they face on the ground in bringing about local improvements.
Notes to editors
The regulations will be laid on 15 June 2012 and come into force on 26 July 2012.

The name of the 'selector' will be confirmed in the near future.

The consultation on whether to allow town and parish councils to submit Sustainable Community Act proposals can be found at www.communities.gov.uk/publications/localgovernment/scaconsultation2012. The consultation will end on 5 September 2012.

A summary of the responses to the consultation on Sustainable Community Act regulations can be found at www.communities.gov.uk/publications/localgovernment/scaresponses.
Published 14 June 2012