World news story
Common Assessment Framework for municipal administration in Macedonia
British Embassy completes project support on Common Assessment Framework for municipal administrations in Macedonia.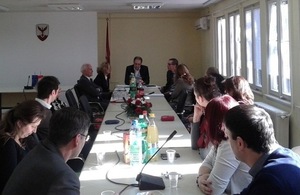 On 27 October in Skopje we marked the successful completion of programme assistance to Centar municipality on introducing the Common Assessment Framework for few municipal administrations in Macedonia. As part of the programme assistance the municipalities in which this process was piloted were Centar, Ohrid and Tetovo. The project involved a process of self-evaluation of the work of the municipal administrations, and mapping areas in which improvement measures can be introduced in order to have more effective administration which needs to provide service to the citizens.
Our ambassador Charles Garrett and the mayor of Centar municipality Andrej Zernovski congratulated the employees from the municipal administration for successful completion of the projects. Mira Canovic from Centar municipality and Neda Maleska-Sacmaroska from the Centre for Change Management spoke about the implementation of the project and the benefits it brings for the administrations which want to implement European standards of quality in their work.
Speaking at the event our ambassador said:
The UK is strongly committed to constant transformation and improvement of the services that the administration provides to the citizens. We see it as an important responsibility of government, whether central or local government, to ensure that it is spending the tax-payer's money in the most efficient, most cost-effective way. We have worked for several years now to share our experience in this with our Macedonian partners, especially on how to transform and reform the administration's processes.
The project on implementation of the Common Assessment Framework was implemented by the Centre for Change Management in the period of October 2013 – March 2014 in three municipalities in Macedonia: Centar, Ohrid and Tetovo.
British Embassy Programme Assistance
Connect with us on Facebook or follow us @ukinmacedonia
Connect with the British Ambassador on Facebook and @BritAmbCGarrett
Read our blog ukinmacedonia
Published 28 October 2014