News story
Coast to coast on Islay
Scottish Secretary goes back to his roots on Islay ahead of Scottish independence referendum Q&A.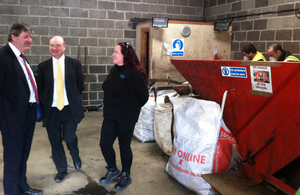 Community projects took centre stage as Scottish Secretary Alistair Carmichael returned to his Islay roots for a day of visits across the island.
His day began by visiting Port Ellen Harbour Association who have recently received over £330,000 from the Coastal Community Fund. This funding will help increase the capacity of their existing facility by 40% opening up the harbour to a new market of larger boats providing a substantial boost to the local economy.
The third round of bids for the Coastal Community Fund is now open. Over the next three years this fund will support over £14m of projects across Scotland. Mr Carmichael is keen for potential bidders to follow the initiative shown by those who have benefited so far.
He said:
Our coastal communities face unique challenges but as Port Ellen Harbour Association have shown, they also create unique opportunities.

The wide variety of projects that have benefited from Coastal Community Funding so far underline the ambition, creation and innovation that exist in Scotland coastal communities. With over £14m available over the next three years I look forward to seeing even more ambitious Scottish projects realise their potential.
The Secretary of State also visited two community led projects, Islay Energy Trust which aims to develop renewable energy projects across the island and Re-Jig Recycle which carries out waste prevention and recycling projects across Islay and Jura. Re-Jig are also aiming to fill skills gaps in the community through offering employment training and apprentice opportunities.
Mr Carmichael added:
These are two stand out examples of organisations doing great work at the heart of our island communities.

On so many occasions the best ideas for improving the lives and boosting the economy of places like Islay come from people who live and work there.

As a Government we must provide the support they need to ensure their ideas become reality. Measures the UK Government has introduced such as the Coastal Community Fund, our Community Energy Strategy and the Employment Allowance do just that.
The Secretary of State's day was rounded off by meeting students undertaking a leadership course run by the Enterprise Academy and an evening question and answer session at Bowmore Hall.
Published 22 April 2014