World news story
Club Brugge v Manchester United: travel advice
Advice for fans travelling to Belgium for Manchester United's Champions League match against Club Brugge.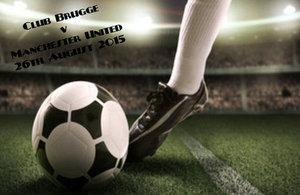 Date: 26 August 2015
Time: 8.45pm (local time)
Venue: Jan Breydel Stadium, Olympialaan 74, 8200 Brugge
As well as this advice, check out our travel advice for Belgium
Passports and visas
you don't need a visa to travel to the Belgium, but your passport should be valid for the duration of your stay
you must carry your passport with you (in a safe place) at all times for identification purposes
remember to bring your European Health Insurance Card (EHIC) with you and take out Travel Insurance; even if you're only going for the day, it could save you a lot of money if you get into difficulties
if your passport gets lost or stolen while in Belgium, you'll need to report it to the Belgian police as soon as possible; to be able to return to the UK you'll need to get an Emergency Travel Document from the British Consulate General in Brussels, Belgium; call 00 32 2 287 62 11 - 24/7 - for more information
Getting to the stadium
Belgian police will prevent supporters without a ticket from going to the stadium and any person found in the vicinity of the stadium during the match day without a valid ticket could be arrested
local police are willing to guide (walk) supporters in groups to the stadium from a "rendez vous" point in the city centre; the stadium is a 45 minute walk
if you take a taxi you'll need to tell the driver to take you to Doornstraat
there's no public parking for any supporters; if you're travelling by car you'll need to park in the streets around the stadium; make sure you park in a valid parking place and pay for a parking ticket if necessary
At the match
there will be no match tickets on sale in Brugge
away supporters will be located in a segregated area of the south stand of the stadium
when entering the visitor's zone supporters will be asked to show their ticket; hold it up on demand as proof that you're a ticket holder
You'll be body searched when entering the stadium
illegal objects will be turned over to the police (eg knives, glass bottles, darts, laser pens, drugs); if you're found carrying on of these items you may be detained
expect to be held back in the stadium for 15-30 minutes after the end of the match
Tips
as in any other city, beware of pickpockets and bag snatchers at airports, railway stations, around the town centre and when using public transport
carrying your passport is mandatory in Belgium; you can be arrested and detained for up to 12 hours if you fail to show it when ask to by a Belgian police officer
keep a copy of your passport and a list of important phone numbers that you can access if needed
public disorder (due to alcohol intake or any other reason) won't be tolerated

British Consulate General
Avenue d'Auderghem/Oudergemlaan 10,
1040 Brussels,
Belgium
(closest train station/Metro – Schuman)

Tel. 00 32 (0)2 287 62 11 – lines are open 24/7


Emergency service numbers
emergencies 112
police 101
fire brigade 100
other Emergency Numbers
to block Bank cards: 070 344 344
Further Information
Follow us on Twitter and like us on Facebook we publish all sorts of helpful tips for Brits in Belgium.
Published 21 August 2015