World news story
Christmas Truce: A moment of peace 100 years ago
British and German embassies Beirut held a football match to mark the 100th anniversary of the Christmas Truce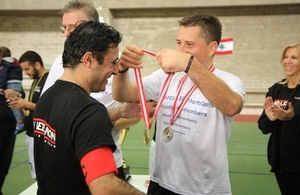 This Christmas will see the centenary of the 1914 truce when soldiers in the First World War stopped fighting, exchanged gifts, sand carols and played football in no-man's land.
To mark a moment of peace 100 years ago, British Ambassador in Lebanon Tom Fletcher and German Ambassador Christian Clages, in collaboration with Lebanese Soprano Tania Kassis, Founder and President of One Lebanon organized a mini-football match at Notre Dame de Jamhour School, on Sunday 14 December 2014.
Ambassadors, Defence Attaches and diplomats from the United Kingdom, Germany, France, Solvakia, Romania, Holland, Poland, Netherlands and Sweden representing 'The Diplomatic' team played against Lebanese celebrities (artists, musicians, businessmen and sportsmen) from the 'One Lebanon' team. Enthusiastic and vibrant spectators from different sects and backgrounds supporting both teams represented a United Lebanon in a message that football then and now has the power to break down barriers, and to bring people together.
To mark this day British Ambassador Tom Fletcher said:
We are remembering a moment a century ago when German and British soldiers stopped fighting and played football together. In a region convulsed by so much conflict, it is a reminder of the power of sport to expose our common humanity. By playing a match against the One Lebanon team, we are showing our confidence in Lebanon's unity and resilience.
German Ambassador Christian Clages said:
The Christmas Truces were audacious acts of insubordination which revealed the absurdity of the killing in the trenches. The lack of sense of the killing shows itself in the Great War of the past as much as in the present wars in the Middle East. Last Christmas and New Year Eve, we expressed our heart-felt wishes for peace in Syria. Unfortunately they did not materialize. Let us hope and pray that 2015 will be a better year than 2014.
The Diplomatic team lost 4-1 to 'One Lebanon' celebrities.
Published 15 December 2014