News story
Chinese New Year: Nick Clegg message
The Deputy Prime Minister wishes everyone celebrating Chinese New Year a great New Year and successful Year of the Sheep.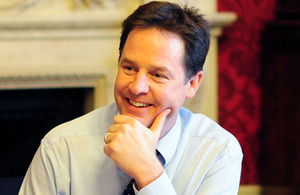 The Deputy Prime Minister said:
I want to wish everyone celebrating - in the UK's Chinese communities, as well as in China, Hong Kong and around the world - a Happy Chinese New Year.

2015 marks the Year of the Sheep and, with some of the world's largest Chinese New Year celebrations outside Asia on offer, hundreds of thousands of people will be joining in the joyful festivities taking place across the UK.

The Chinese sign of the Sheep represents peace, strength, creativity, endurance and enterprise – positive values to which we should all aspire to live our lives by, as we strive to build a stronger economy and fairer society together.

The contribution Britain's Chinese communities make towards helping us achieve this ambition is immeasurable: working hard, caring for their families, supporting their local communities and taking an increasing lead in every area of public life.

Together, we can achieve the fairer, more peaceful and prosperous future we want. So, once again, let me wish everyone the very best for a great New Year and successful Year of the Sheep.

Xin nian kuai le! Gung hey fat choy!
Published 19 February 2015