Chinese New Year 2013: message from the Deputy Prime Minister
Deputy Prime Minister Nick Clegg has shared his best wishes for the Chinese New Year with Chinese communities in the UK and overseas.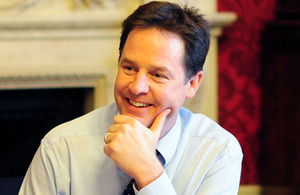 Mr Clegg's message reads:
I wish all of the UK's Chinese communities, and Chinese communities around the world, a very Happy New Year in 2013.  Chinese communities in the UK hugely enrich our country, have integrated well into British society and becoming more visible in public life.  

We also have a long standing bond with the people of Hong Kong, to whom we send a special New Year greeting.

Looking back, 2012 saw the 40th anniversary of ambassadorial relations between the UK and the People's Republic of China, and China saw a transition to a new leadership.  We wish that new leadership well in bringing greater prosperity, freedom and peace to their country.

It is poignant that 2013 is the year of the Snake, symbolising wisdom.  The new leadership in China have set out their determination to deal with the challenges China faces and provide a better future for the people of China.   With wisdom, China's leaders will I am sure succeed in this task.  The trade and investment between China and Britain is steadily increasing and there will be many opportunities throughout 2013 for us to work in partnership with the common aim of ensuring economic growth and prosperity for all.   May I take this opportunity to wish you all a happy, prosperous, healthy and wise New Year in 2013.   Xin Nian Kuai Le! Gung Hey Fat Choy!
Published 11 February 2013