News story
Chinese New Year 2011: message from the Deputy Prime Minister
Deputy Prime Minister Nick Clegg has wished Chinese communities around the world a very happy new year.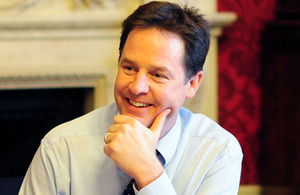 Mr Clegg said Chinese New Year was a time of "great celebration" and a time to recognise the enormous contribution Chinese communities make.
The Deputy PM said:
The next 15 days are going to see a host of ancient traditions celebrated across the United Kingdom and across the globe.

This is a time of great celebration and a perfect time to pause and recognise the enormous contributions Chinese communities make to Britain. 
The Deputy PM also praised the Chinese communities achievements, values and work ethic. He said we should draw on these values to "help set Britain on the path to more prosperous times".
Published 3 February 2011