News story
Chindit army cadets enjoy CNC visit
Last Saturday (5/11), 26 army cadets from the Chindit Company, Cumbria Army Cadet Force (ACF) visited the CNC to find out who we are and what we do.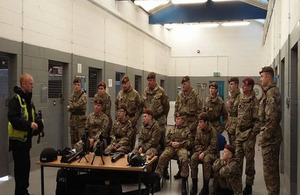 The cadets, aged between 12 and 18, paid a visit to the CNC dog section, based near to the Sellafield site.
PC Bill Lane and PC Martin Heffernan, who are both national firearms instructors for the CNC, were on hand to explain the unique role that the Constabulary plays in keeping our civil nuclear infrastructure safe, including the highly skilled role of an Authorised Firearms Officer (AFO).
They then demonstrated the equipment and weapons systems our AFOs carry while on patrol and talked about the continuous and demanding training our officers go through to allow them to carry out their role.
PC Heffernan (pictured with the cadets) said: "It was very rewarding to meet such a motivated and dedicated group of young people and I hope they found the visit useful and interesting.
"The CNC is a national police force with a vital counter terrorism role, yet because a lot of our work takes place behind the wire on nuclear sites, we are not always as well-known as our Home Office colleagues. Although we regularly patrol the 5km vicinity of the nuclear sites we police and often get to interact with the public, visits such as this give us the opportunity to spread the word about our Constabulary and the important work we carry out."
Colonel Anthony Steven, Commandant of Cumbria ACF, said: "I am very grateful to the Civil Nuclear Constabulary for giving cadets from the west coast of the county the opportunity to see the work of the dog section and the equipment that the CNC uses to keep the country's nuclear assets safe. I hope that cadets may be inspired to join the CNC in the future and I am sure that the skills that they gain from Cumbria ACF will help them in such a demanding role."
Major Su Wilkinson, OC of Chindit Coy, said: "Chindit Company, Cumbria ACF, have had another successful and informative visit to Sellafield Civil Nuclear Constabulary hosted by Constable Martin Heffernan. The cadets and adults learned a lot about career opportunities, the equipment that is used and the training and selection process that is in place.
"It also assisted the cadets in achieving the Cadet in the Community subject which is a part of their training. The adults and cadets thoroughly enjoyed the visit and hope to be invited back again soon. Thank you to all concerned who were involved in making the visit happen."
Published 9 November 2016
Last updated 9 November 2016
+ show all updates
Typo corrected
First published.