World news story
Chilean investors trade mission to the UK
A follow-up event was held in Santiago to review the success of the 'Inspiration Tour' trade mission in June.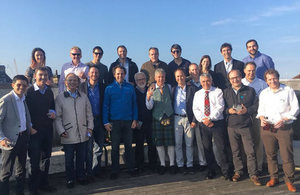 A working breakfast was held on Thursday 26 July at the British Residence in Santiago, to present the findings and lessons learned about the 'Inspiration Tour' trade mission.
'Inspiration Tour' trade mission
The trade mission was held in June and represented 25 Chilean delegates, both businesses and family offices, looking to diversify and invest in the UK.
The missions aim was to:
showcase how venture capitals operate in the UK and in Germany - and how they could eventually transform Chile in a venture capital hub in Latin America
promote entrepreneurship
look for opportunities to diversify some of Chile's most traditional conglomerates and make innovative, direct investments into exciting companies
The Department for International Trade (DIT) at the British Embassy in Santiago supported the mission in partnership with Genesis Ventures. In attendance were representatives of:
the Association of Family Businesses
the Chilean Association of Venture Capitals
the Chilean Federation of Industry (SOFOFA)
DIT's Chile's Inward Investment team organised a tailored agenda including interactions with UK investment opportunities, investment funds, family offices, universities, as well as leading entrepreneurs and UK business people.
Outcomes
During the breakfast representatives from Genesis Ventures spoke about their decision to open a company with 2 subsidiaries in UK.
The Association of Family Businesses have decided to develop a mid / long term strategy to work with DIT.
ChileDay
Some of the mission members will be involved in the Chilean Trade and Investment Day (ChileDay) in London on 6-7 September. The Embassy and the Department for International Trade is supporting the event. The 3 main themes will be:
venture capital
green finance
Fintech
Further information
For more details about this trade mission to the UK, contact Jorge Loyola, Southern Cone Investment Assistant at the British Embassy Santiago.
For more information about the events and activities of the British Embassy in Santiago, follow us on:
Published 14 August 2018