World news story
Chile ambassador launches competition to find best creative writer
Are you a budding writer? Do you follow hit TV show Downton Abbey? Would you like to win a trip to London? Then we are looking for you!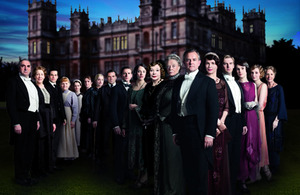 Downton Abbey is a British period drama which covers the lives of the aristrocratic Crawley family and their servants at fictional Downton Abbey in Northern England in the early 20th century, currently showing on Film and Arts channel.
At the Chile avant premier of season three of the show on 6 March, British Ambassador Jon Benjamin launched a competition to find the best creative writer in Chile.
The task
To write an outline idea of an episode of Downton Abbey 2013 – i.e. set in modern day Britain. So we're inviting you to learn more about the UK of today, and put your own spin on it. Would the Earl of Grantham be a Premiership footballer? Would the family live in a low carbon house in the ex-Olympic village? Would the flirtation between the characters be over Facebook?
The prize
Sponsored by the Instituto Britanico, the prize will be a trip to London for two people, including a visit to the castle where Downton Abbey was filmed so that you can live the Downton experience.
The criteria
You need to send your idea (maximum 200 words) for an episode of Downton Abbey 2013 to downtonabbey@fco.gov.uk by 13 April. The judges will be looking for originality of ideas, understanding of the modern UK and writing aptitude. Five 'finalists' will be chosen, who will then be asked to develop a short script (3 page maximum) based on their idea and provide a bio of themselves. Entries can be in Spanish or English.
Good luck writing!
Published 4 April 2013