News story
Children bury treasures beneath new Portsmouth Navy block
Children have buried their belongings for future generations to find under the foundations of new accommodation at Portsmouth Naval Base.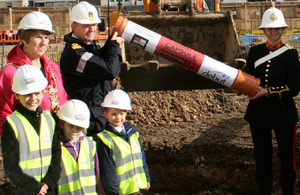 Schoolchildren from Solent Infant School, Mayfield School and Bay House School and Sixth Form placed items in a time capsule to be buried beneath the new Falklands Building with the help of the Lord Mayor of Portsmouth, Councillor Lynne Stagg.
The primary and secondary school pupils donated a variety of items, including toys, cards, coins, photographs and school jumpers to put in the capsule.
The new accommodation is being built as part of the Defence Infrastructure Organisation's (DIO's) Project SLAM (Single Living Accommodation Modernisation), an extensive upgrade of bed spaces, common areas and ancillary facilities for service personnel.
SLAM is a joint venture between Lend Lease and Babcock Infrastructure and has so far delivered in excess of 20,000 bed spaces for Armed Forces personnel throughout the UK.
DIO project manager Howard Sims said:
This provided a great opportunity to get some of the local schoolchildren involved in the SLAM project and provided them with an interesting and informative day out on our site.

The whole team found the children's efforts to ensure the time capsule's contents were unique yet informative for future generations very heartening.
Commodore Jeremy Rigby, the Portsmouth Naval Base Commander, said:
About 75 years ago, there were air raid shelters beneath where we are standing and messages had been carved on walls which now provide us with a snapshot of history.

So when this capsule is dug up about 75 years from now, these items will provide a similar snapshot of life in 2013. I'm sure whoever uncovers the capsule will find it a fascinating historical resource.
Azir Ali, Lend Lease's project manager, added:
It was heartening to see the children place their chosen items in the capsule with such enthusiasm. The event was a great precursor for what's to come on the site.

The Falklands Building will be a fantastic improvement on the accommodation it is replacing – highly modernised and somewhere the occupants we hope will enjoy living.
The Falklands Block is due for completion in the first quarter of 2015.
Published 8 November 2013