Childcare support will be paid to around 80,000 more households
Childcare support will be paid to around 80,000 more households, Nick Clegg and Welfare Secretary Iain Duncan Smith announced today.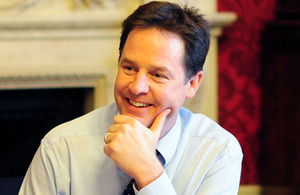 Reaffirming their commitment to helping parents with the costs of childcare, the Government will invest an additional £300 million into childcare support under Universal Credit, on top of the £2bn already spent under the current system.
 
Currently, childcare support is only available if you work 16 hours or more, but the Government is removing the minimum hours rule so that all families receiving Universal Credit will be eligible for financial help. This means that families on low incomes will receive more support to keep them in work.
 
As now families will be able to recover childcare costs at 70 per cent - up to £175 for one child or £300 for two or more children per week.  The money will paid through Universal Credit from 2013 and will mean that around 80,000 more families with children will be able to work the hours they choose. 
 
Deputy Prime Minister, Nick Clegg said:
Childcare support is vitally important. It's a lifeline for families up and down the country, particularly for mums who want to get back into work, maybe for just a few hours a week after they've had children.
This will help an extra 80,000 families who have previously had no help at all with childcare costs. We all know how difficult it is sometimes to juggle family and work but this is really good news, especially for lone parents and mums up and down the country.
I want to ensure that this Coalition Government is there for families of all shapes and sizes and help them with the difficult daily juggling act between family and work.
Work and Pensions Secretary Iain Duncan Smith said:
We are determined to help more parents take their first steps into work, but under the current minimum hours rule parents are trapped in state dependency without the childcare support they badly need - providing yet another barrier to work.
Under Universal Credit more people will receive support for childcare than they do now. Parents will be able to work the hours to suit their families and receive the childcare support they deserve. We will target support at those making the first steps into work - support won't just be available for those working more than 16 hours, it will also be there for those working fewer than 16 hours.
The additional support, combined with State funded free early years education for younger children will enable parents of children of any age to bring together full time paid employment with parenting, and will ensure that those with school age children can meet their job search obligations.
 
Costs can vary, but for those paying average childcare costs, this would enable parents to buy up to around 40 hours of childcare a week.
 
The limits will also be applied monthly giving parents more flexibility to manage fluctuating costs at peak times, such as school holiday periods when they may face higher costs some weeks and lower costs on other weeks.
Notes to editors
In the 2010 Spending Review the Government protected the universal entitlement to 15 hours a week of free childcare for all 3 and 4 year olds, and extended it for the first time to disadvantaged 2-year olds. Universal Credit will create one single income-replacement benefit for working age adults, including childcare costs for working parents.

This childcare policy will cost an additional £300m per year.

Universal Credit is on track to start on time in 2013 to secure a Welfare State fit for the 21st Century.

Over the following four years we will convert 19 million claims under the existing out-of-work benefits and tax credits system to eight million household payments under Universal Credit. 

The scale of the IT delivery is similar to that for Employment Support Allowance which was successfully delivered by DWP on time and within budget (October 2008).
Published 7 October 2011