World news story
Chevening Success Stories - Ms. Onida Vinavong
Read all about Ms. Onida Vinavong's success with her Chevening scholarship.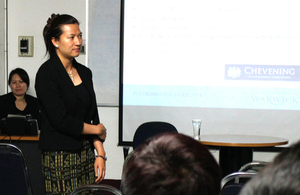 1. Tell us a bit about yourself : where you are from, your studies, work etc:
My name is Onida Vinavong, I was born and bred in Laos. I studied English at Vientiane College. After high school, I obtained an Australian Development Scholarship (ADS) and went to study an undergraduate degree from the University of Sydney. After graduation, I have been working as a full-time trade officer in Ministry of Industry and Commerce as part of the team supporting Lao P.D.R to become a member of the World Trade Organisation (WTO).
2. How did you hear about the Chevening scholarship, and what made you interested in applying?
I heard about Chevening scholarship from my colleague Mrs. Latthana Douangboupha who is a Chevening Alumni. I then searched on the internet and found the Chevening Scholarship website. At first I was not sure I was eligible to apply as there was no British Embassy in Laos and no option to select Lao nationality on the application form. However, as I really wanted to undertake further education in the UK, I decided to apply to the programme and luckily I was accepted.
3. Why did you particularly want to study in the UK?
There are several reasons why I want to study in the UK: First, and most obvious is that the UK has a prestigious world-class education system. UK universities are high in international rankings and are widely renowned. Therefore, completing a postgraduate course in the UK will be an outstanding achievement that will be proof of my academic success and will hopefully lead to higher professional recognition. Second, the UK has a long history of educating numerous leaders, talented and famous people from many nations. Therefore, by studying in the UK I hope my own leadership skills will grow and further motivate me to pursue my dream to become one of my country leaders in the future. Another reason for studying in the UK is that during my adolescence, I worked as an English teaching assistant for young learners at Vientiane College for three years to keep up my English language skills and also to teach English to the next generation. Whilst there, I worked mostly with teachers from the UK who inspired to study in the UK. Finally, a practical reason is that UK universities offer a 1 year intensive Masters course whereas others require a longer period of study. Spending a shorter time spent gaining an international qualification, gives me more time to build my career and other aspects of life.
4. How do you think it will help you in your future career?
I believe that I will gain higher professional recognition in the workplace and higher self-confidence that will lead to higher responsibility in my future career and also help my personal development.
5. How do you think it will help UK-Lao relations?
I always believe that Development Aid, specifically scholarships for higher education, is one of the best ways to build a relationship between two countries. Chevening scholarships give Lao people opportunity to experience UK culture and way of living as well as an opportunity to develop professionally. This will assist them to have a better understanding of the world outside of Laos. In addition, contacts made while studying in the UK, can lead to long-term friendships with people from different countries. All of these would be of benefit when engaging in trade interactions and negotiations at an international level. In addition, with a strengthened relationship between Laos and the UK, business opportunities will be increased for both countries.
6. What do you hope to learn in the UK?
I will attend the MSc Economic Development and Policy Analysis course at the University of Nottingham. I hope this will deepen my knowledge in global economic theories and strengthen my critical and analytical research skills. I expect the course to provide economics theories and models that can later be applied to Lao economy. From as personal aspect, I would also like to explore the long UK history of multi-culturalism and its tradition and history. By being a part of the UK society I would gain experience from dealing with people with different backgrounds, expectations and cultures, which will contribute to my personal maturity, integrity and independence.
7. What advice would you give to Laotians thinking of applying for Chevening?
Apart from fluency in English language, applicants for Chevening Scholarships should also be active and have a clear plan on what they want to study and at which university. In addition, applicants must know not only what they want to do after graduation, but their career plan for at least the next 10 years.
Published 11 August 2015