World news story
Chevening Scholarships awarded in Belize
The British High Commission announces the recipient's of this year's UK Chevening Scholarships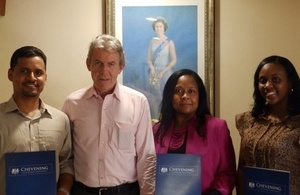 The British High Commisson in Belize is pleased to announce that Chevening Scholarships have been awarded to 3 Belizeans who will travel to the UK later this month to commence their studies.
Ebony Lyall from the Cayo District will be studying for an MSc in Forensic Science at the University of Strathclyde. Brian Duncan from Belize City will be studying for an LLM in International Corporate Governance, Financial Regulation and Economic Law at the Institute of Advanced Legal Studies, while Ashanti Guzman, also from Belize City will study for an MA in Criminology and Criminal Justice at City University, London.
The Chevening Scholarships scheme is the global scholarship programme of the British government. The Scholarships are awarded to exceptional individuals with leadership potential and they enable recipients to study one-year Masters courses in a range of subjects at UK universities. The Scholarships are funded by the Foreign and Commonwealth Office and aim to support UK foreign policy priorities by creating lasting positive relationships with future leaders, influencers and decision makers.
The Chevening programme has, over 30 years, provided more than 40,000 Scholarships at Higher Education Institutions in the UK for postgraduate students or researchers from countries across the world. Chevening scholarships are prestigious and sought after awards aimed at extremely capable individuals who have already made an impact and are motivated to pursue a career that will take them to a position of leadership within their own country or region.
The application period for the 2015/2016 scholarships is now open until 15 November. Get more information online at www.Chevening.org
Published 11 September 2014