World news story
Chevening Scholarship applications open for 2015-16 Academic year
Chevening scholarships offer financial support to study for a Master's degree at one of the UK's leading universities, and the opportunity to become part of an influential and highly regarded global network.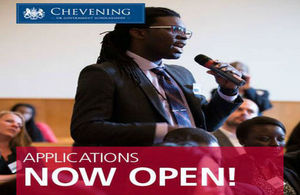 The British High Commission is calling on all future potential leaders, influencers and decision-makers to apply for one of its flagship scholarships under the Chevening Scholarship programme.
Applications are open from 1 August to 15 November 2014. This year marks the 30th anniversary of Chevening Scholarship programme. As a real boost to Chevening for this anniversary year there will be a tripling of funding for Chevening Scholarships for developing countries in 2015-16. For Ghana, this means a likely nine places, as opposed to three for 2014-15.
The aim of the Chevening Scholarship programme is to bring to the UK young people of great potential to be future leaders, decision-makers and opinion formers. It is named after 'Chevening House', the official country residence of the British Foreign Secretary.
In Ghana, there are now over 200 returned alumni scholars who have studied in the UK with a Chevening scholarship since the scheme's inception in 1983. Most of these scholars typically hold middle ranking or senior positions in government, business, the media and civil society. Most scholarships are for one year Masters courses, A very small number of short courses are offered, but on an exceptional basis only. Since 1983, under its full title of 'the Foreign and Commonwealth Office Scholarships and Awards Scheme', the Chevening programme has provided more than 40,000 scholarships to students in over 150 countries.
The Chevening team are particularly interested in hearing from applicants in Ghana who wish to study subjects related to the following thematic areas:
• Good Governance and Democracy
• Media / Journalism
• Energy (oil/Gas), Climate Change
• Economics (economic development/ investment and entrepreneurship/ public administration)
To be eligible for a Chevening Scholarship, you must:
• Be a citizen of a Chevening-eligible country, and intend to return there after your studies
• Hold a degree that is equivalent to at least an upper second-class honours degree in the UK
• Have completed at least two years' work or equivalent experience before applying for a Chevening Scholarship
• Be able to meet the Chevening minimum English language requirement
• Be able to obtain the correct visa, and receive an unconditional offer from a UK university
Take advantage of this great opportunity and apply now: http://www.chevening.org/apply/
NB: If you are a Chevening alumnus (past scholar), kindly contact Patricia Adu-Twum of the British High Commission on 0544 343645 and register your details.
Published 7 August 2014