World news story
Chevening Success Stories - Khachonesack Douangphoutha
Khachonesack Douangphoutha completed his undergraduate studies in Information Technology and Systems from Monash University in Melbourne.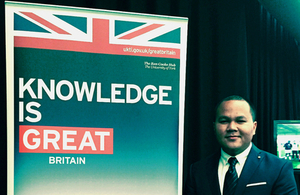 My name is Khachonesack Douangphoutha, I go by the nickname Kitae.
I was born and raised in Vientiane. I was very fortunate and deeply honoured to have been selected in one of two Chevening scholarships for Laos in 2014.
I completed my undergraduate studies in Information Technology and Systems from Monash University in Melbourne Australia in 2011 under the Australia Awards Scholarships. After four years of academic break, I wanted to start something new, such as an exciting academic life in the UK.
Aston Business School is one of the top Business Schools in Europe right in the centre of Birmingham where I am currently pursuing my postgraduate studies in MSc. in Information Systems and Business Analysis.
Thanks to the Chevening scholarship that has made all this possible, I am able to fulfil my dreams and further expand my knowledge in technology alongside with business and management related issues. My research interests include knowledge management, IT Governance in the public sector, operations management, supply chain management, and technology consultancy in IT projects.
My Chevening fellows are from all corners of the globe and have incredible leadership potentials and talents. I do believe that one of the great strengths of the scholarship is the opportunity to expand global network and sustain long-lasting connections with fellow scholars, not only while in the UK, but for a life time.
British universities are world–class and out of the top ten in the world, four are British. The teaching style in the universities in the UK is excellent and focused on independent learning; students can conduct their research in their own interest areas, which is particularly true for master's level studies.
My advice to potential Chevening scholars is to work hard to achieve good academic results, be self-confident and committed, and most importantly have an idea from the start on how to use the UK degree to develop Laos in your area of expertise upon your return.
Again, my sincere gratitude to the British Embassy in Vientiane and the Foreign & Commonwealth Office for giving me this opportunity and the confidence they have on me. I am deeply proud and honoured to be part of the global network of Chevening. I sincerely hope that there will be more Chevening scholarships available for Lao students.
I wish all future Lao Chevening Scholars the very best on their adventurous journeys in the UK!
Published 19 August 2015