World news story
Chevening Alumni India lecture series to be inaugurated in Chennai
Chevening Alumni India (CAI) have initiated a series of lectures across India.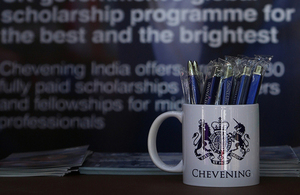 The very first lecture on 'Freedom of speech and expression for literary scholars' by Hon'ble Justice Sanjay Kishan Kaul, Chief Justice, Madras High Court is being delivered on Monday 21 November in Chennai. The inaugural lecture is being hosted by the British Deputy High Commissioner in Chennai, Bharat Joshi at his residence.
Speaking on the occasion, Bharat Joshi commented:
I am very pleased to host the first of the CAI lecture series. This initiative is completely led by Chevening alumni who plan to organise around 30 lectures across India in several HE institutes as well as corporate houses on wide ranging subjects such as science and technology, energy, environment, healthcare, finance, education and skills, social and regional issues and foreign policy. It is also a great example of how our Chevening programme for future leaders is contributing to society for a better India.
The lectures are being funded by Chevening Alumni Programme Fund (CAPF), Foreign and Commonwealth Office (FCO). It has a dual objective of strengthening alumni engagement and networks throughout the world, and furthering UK's global influence. This fund can be secured through competitive bidding by any Chevening alumnus/ alumni across the world. The bid for FY 17-18 is now open.
Further information
CAI: This is an association of Chevening alumni in India- now a formally registered under the Societies Act, it a national non-profit society with eight city chapters- Delhi, Chennai, Bengaluru, Mumbai, Hyderabad, Chandigarh, Ahmadabad and Kolkata.
Chevening: Chevening is UK government's global awards scheme offering fully funded one year master's scholarships to deserving graduates and customised fellowships in a variety of areas to outstanding mid-career professionals. India hosts the largest Chevening programme in the world offering 130 scholarships and fellowships every year.
Chevening Alumni: There are around 2300 Chevening alumni in India (over 46,000 worldwide). Chevening Alumni are an influential and highly regarded group. They have an excellent record of rising to positions of leadership across a wide range of fields including politics, business, the media, civil society, science and technology, and academia.
Chevening Alumni Baton: Chevening Alumni have a special gold baton. The baton is set to travel around the world. It landed in New Delhi, India last month and has a long global route to cover, before reaching Tokyo, the destination for the forthcoming summer Olympics. The Chevening Alumni Relay was launched on 26 November 2015 at a Chevening Alumni Alliance networking event in London.
For media queries, please contact:
Anita Mawdsley
Press & Public Affairs Officer
British Deputy High Commission Chennai
Mob: +91-96001-99956

Email: Anita Mawdsley
Follow us on Twitter, Facebook, Flickr, Storify, Eventbrite, Blogs, Foursquare, Youtube, Instagram, Vine, Snapchat @UKinIndia, Periscope @UKinIndia
Published 18 November 2016