World news story
Change to UK visa payments
Payments for UK Visa applications from the Gambia to go online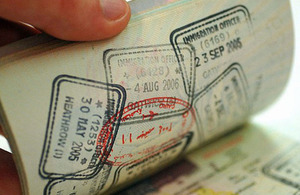 The UK government will shortly introduce a new global payment system that will require all visa payments to be made online using a Visa or MasterCard debit or credit card at time of application.
This process will become mandatory on 16 December 2013 at which point cash payments will no longer be accepted. This system is being adopted globally as part of the UK Government's 'Digital by Default' initiative and will help cut costs in the management of the visas operation, which in turn helps to keep visa fees down. It will also be a safer system for both customers and staff as it reduces the risk associated with handling large amounts of cash during the visa application process.
Commenting on the change British Ambassador David Morley said:
"We understand that this change may raise concerns with visa applicants given that debit and credit cards are not widely used in The Gambia. Applicants may wish to get their sponsor, or friends and family abroad to use their card details as part of the payment process. In time visa agents will likely offer a payment service to applicants which will help streamline the process. These changes keep processing costs to a minimum and allow us to maintain our visa application centre in The Gambia at a time when other nations require applicants to travel to Senegal or other countries to submit their applications."
All applications for UK visas must be made online at -
Home office visas
All the information about how to apply, prices and waiting times are detailed online.
Published 5 December 2013