World news story
Change of British Ambassador to Macedonia
Ambassador Garrett presents credentials to the President of the Republic of Macedonia.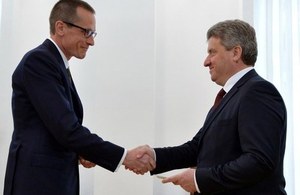 On 29 May 2014 our Ambassador Charles Edmund Garrett presented his credentials to the President of the Republic of Macedonia Dr Gjorgje Ivanov. Meeting with the President of Macedonia, Ambassador Garrett underlined British support for Macedonia and the friendly bilateral relations between the two countries.
Presenting credentials Mr Garrett said:
I am delighted and honoured to be accredited as Her Majesty's Ambassador to the Republic of Macedonia. I look forward to working with Macedonia on issues of importance to both our countries. The UK is a longstanding supporter and friend of Macedonia in its process of euro-atlantic integration and I hope we will continue to mark progress in our political and economic relationship.
Mr Garrett joined the FCO in 1987. Before arriving in Macedonia he was most recently on secondment as Foreign Affairs Liaison at the Queen Elizabeth Diamond Jubilee Trust. Before that he served as Head of International Relations at the Organising Committee of the London 2012 Olympic and Paralympic Games. His FCO career has been divided between Europe with postings in Cyprus and Switzerland, and East Asia with postings in Hong Kong and Taipei.
UK and the Republic of Macedonia have enjoyed bilateral cooperation since 1993. Ambassador Garrett is the seventh British Ambassador to Macedonia.
Speech by Ambassador Garrett at the credentials ceremony with President Ivanov
Find us on Facebook
Connect with us on @twitter
Connect with the Ambassador Garrett at @BritAmbCGarrett
Published 29 May 2014