Press release
Central reserve barrier upgrade on M1 junctions 19-16
The Highways Agency will shortly be starting work to replace the existing metal barrier with a stronger and safer concrete barrier in the central reserve of the M1 between junction 19, Catthorpe interchange and junction 16 for the A4500 to Northampton.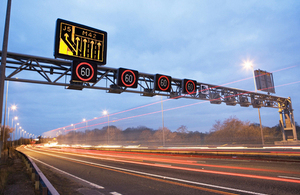 The work is taking place in preparation for a proposed scheme to convert this section of road into a smart motorway – expected to start in September 2014 with mobilisation and preparation works scheduled from the 6 August.
Completion of the barrier is expected in summer 2015. While the work is underway, to minimise disruption, three lanes of traffic will be kept open in each direction during peak times, however, to protect road workers, some off peak and overnight lane closures may be necessary.
Brian Gash, Highways Agency Senior Project Manager, said:
This work is necessary to prolong the life of this important road and improve safety for drivers. Every effort will be made to ensure any disruption to drivers and residents is kept to a minimum.
The proposed smart motorway scheme is subject to completion of statutory processes, including assessment of potential environmental impacts.
Brian added:
During the works we advise road users to plan their journeys to avoid delays. For the safety of road users and road workers we encourage all drivers to drive carefully through the works, keeping within the speed limit, and concentrating on the road ahead.
More information about these works is available from the Highways Agency's scheme web page, the Highways Agency Information Line: 0300 123 5000 or email <ha_​info@​highways.​gsi.​gov.​uk>
General enquiries
Members of the public should contact the Highways Agency Information Line on 0300 123 5000.
Media enquiries
Journalists should contact the Highways Agency press office on 0844 693 1448 and use the menu to speak to the most appropriate press officer.
Published 30 July 2014