World news story
Celebrating St. Andrew's Day in Amman
Flying the Saltire in Amman to mark St. Andrew's Day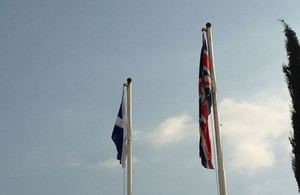 On 30 November we wished all our Scots at home and abroad a Happy St Andrew's Day.
There are strong links between Scotland and Jordan, and as we celebrated Scotland's national day, anyone passing the British Embassy in Amman would have noticed a blue flag with a bold white cross running from its corners flying right beside the Union flag.
It is the Saltire. The cross of St Andrew, the Patron Saint of Scotland, whose feast night is marked by Scots across the world.
On 30 November, we celebrated the best of Scotland, and all that this land and the Scots have contributed to the world. Its history and heritage: a country rich in culture, creativity and commerce; home to some of the most breath-taking scenery imaginable.
The 12 months since the last St Andrew's Day have been remarkable. It has been a year when Scotland has welcomed the world, hosted two great international sporting events, and when the Scottish people determined their own future.
2014 has been, unofficially at least, the year of Scotland. And what a year it has been!
Published 1 December 2014