World news story
Celebrating Mid-Winter's Day in British Antarctic Territory 2018
21 June marks the mid point of Antarctic winter. HM Commissioner to the British Antarctic Territory has written to BAS personnel to mark the occasion.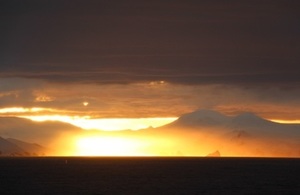 21 June is Mid-Winter's Day in the British Antarctic Territory. To mark the occasion, HM Commissioner Ben Merrick has written to British Antarctic Survey (BAS) personnel currently stationed in Antarctica to thank them for their ongoing hard work within the Territory. You can view a copy of the message below.
My sincere thanks for all your hard work and dedication as you prepare for the Mid-winter festivities.

The UK is a major and influential player in Antarctica, with an illustrious history on the continent. The work of BAS is highly respected and vital to the sustainability of this most important area of the world. I had the pleasure of travelling to Rothera at the start of the year where I saw for myself the hard work and immense effort that goes into operating in this harsh yet outstanding environment. It helped me understand the conditions on the ground and I can only imagine how mentally challenging it must be to experience near 24-hour days of darkness.

While the Mid-winter gives a chance to reflect, new challenges await. This includes new and continuing collaborations with Antarctic Treaty partners on important scientific research and the preparations for the renovation of the wharf at Rothera that will enable it to receive the impressive new Polar Research vessel, the RRS Sir David Attenborough. As we approach the 200-year anniversary of the first sighting of the South Shetland Islands by William Smith in February 1819, I want to reiterate my thanks for all the dedication shown in continuing to support the largest of all the UK's Overseas Territories and this most important continent.

Enjoy the celebrations and have a safe and successful conclusion to the winter.
Published 21 June 2018