World news story
Celebrating Commonwealth Week
UK in Tanzania celebrates Commonwealth Week focusing on the importance of education and people to people links.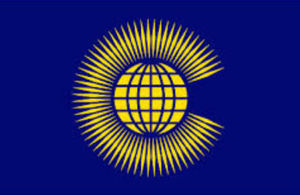 Commonwealth Week is an opportunity to promote understanding on global issues, international co-operation and the work of Commonwealth organisations, which aim to improve the lives of citizens. Commonwealth Day is celebrated on the second Monday in March every year, which this year is 10th March.
The theme for 2014 is 'Team Commonwealth' , which expresses the spirit of friendship and motivation towards the shared goals and values that exist between Commonwealth members.
The Commonwealth is an extraordinary team of 53 widely differing countries united in shared values working together to further common aims.
Team Commonwealth expresses a very real spirit of friendship and motivation towards the shared goals and values that exist between Commonwealth members. This enables them to work together to help one another create just and peaceful societies, achieve sustainable and inclusive social progress, advance democracy, and build economic resilience with prosperity in which all citizens can share.
The Team Commonwealth theme inspires the governments, institutions and people of the Commonwealth, individually as well as collectively, to strive with ever greater ambition and effort to claim the practical advantages and common good that are emerging from a reinvigorated Commonwealth network.
UK in Tanzania Celebrations
The British High Commission in collaboration with the British Council is this year celebrating Commonwealth Day with two events.
First, a reception celebrating higher education and the power of alumni networks including UKAT (UK Alumni Tanzania), Commonwealth Scholars and the UK's flagship Chevening Scholarship Masters Programme on 7th March.
The second event, on 11th March, will feature a visit to a local Tanzanian school, Kisutu Primary School by British High Commissioner Dianna Melrose to see the links between the UK and Tanzania through education in action. These include teacher to teacher links through shared teaching resources and interactive student to student opportunities between young people in Tanzania and the UK. The British Council is running two parallel programmes: Connecting Class Rooms, and the Commonwealth Class. Both initiatives feature on-line materials, on line debates and interactive activities for schools designed to help children learn to be active, responsible global citizens in the Commonwealth Family.
Speaking about Commonwealth Day, British High Commissioner Dianna Melrose said: "The UK is committed to strengthening our engagement with and role within the Commonwealth, helping it to realise its full potential. A strong Commonwealth is important to future prosperity and the national interests of all its members' states and can help promote UK objectives of democratic values, good governance and prosperity. I am delighted to have this opportunity to meet British, Tanzanian and Commonwealth alumni and to see for myself the fantastic work the British Council is doing through Connecting Classrooms and the Commonwealth Class initiative. These people to people and children to children connections are at the core of all the Commonwealth stands for and will increase understanding and opportunities for the future".
2014 Glasgow Commonwealth Games
2014 is a special year for the UK in the Commonwealth as Glasgow in Scotland gears up to host the 20th Commonwealth Games from 23 July- 3 August. Glasgow 2014 As competitors from around the globe gather in Glasgow for the 2014 Commonwealth Games, team spirit will be on display not just within nations, but also between them.
Commonwealth Day, 10th March 2014
Message from Her Majesty Queen Elizabeth II, Head of the Commonwealth
'In July this year, the opening of the 20th Commonwealth Games will be marked by the arrival in Glasgow of the baton that started its journey from Buckingham Palace five months ago.
Many of us are following closely the news of the baton relay as it passes through the 70 countries and territories whose teams will gather for the Games. The images bring vividly to life what we mean by the Commonwealth family: it is wonderful to see the warmth, shared endeavour and goodwill as the baton is passed through the hands of many thousands of people.
Affinities of history and inheritance from the past are strong, yet we are bound together by a sense that the Commonwealth is a powerful influence of good for the future. People of all ages from different cultures are weaving an ever-growing network of links which connect us in our diversity and our common purpose. It is this unity that is expressed in this year's theme: 'Team Commonwealth'.
While national teams will be concentrating on the competition in August, Team Commonwealth will have a longer focus, working together to achieve a more enduring success.
Experiences of life differ widely throughout the Commonwealth, and we each make contributions from sometimes very different viewpoints. But we are committed to the same goals. Together we offer each other encouragement and draw strength from this mutual support.
The understanding that we belong together, and are able, through teamwork, to achieve far more than we could do alone, has always been at the heart of our approach. For all of us this is now captured in the Commonwealth Charter which sets out the values and principles which guide and motivate us.
This year, more children and young people are participating in Commonwealth Day celebrations. Advances in technology enable us to reach a greater number of young people in schools, on-line using the 'Commonwealth Class' initiative, and through events in local communities where the Commonwealth flag is being raised.
I am delighted that in this, the year of 'Team Commonwealth', we will be working to build a brighter, united future in which every one of us can play a part and share in its rewards.'
More Facts About The Commonwealth…
What is the Commonwealth?
The Commonwealth is a unique network of 53 states, all with an equal voice. The UK is connected to the Commonwealth through historical ties but also through our Queen Her Majesty Queen Elizabeth II, who in 2012 marked her 60th year as Head of the Commonwealth. The Commonwealth Secretariat is based in London at Marlborough House, and is headed by Secretary General, Kamalesh Sharma. It is the world's oldest political association of sovereign states. It is a voluntary organisation which supports democracy, human rights, development and prosperity.

The Commonwealth comprises nearly a third of the world's population, over two billion people. Over 1 billion of those citizens are under the age of 25.
Why is it important?
DFID reviewed the Commonwealth Secretariat in its Multilateral Aid Review in 2011. It concluded that one of the Commonwealth's key strengths lay in its unique 'network of networks'. The Commonwealth's notable strength lies in its 'quiet diplomacy' work. It is also an important organisation for promoting development and trade and investment. Most Commonwealth countries share the English language and have similar legal systems. The Commonwealth's core values of democracy and good governance are important pre-requisites for creating the stable environment in which trade and investment can flourish.
What are our priorities?
The UK's Foreign Secretary announced in a keynote speech in January 2011 his Government's intention to reinvigorate the Commonwealth and the UK's engagement with it, with a focus on promoting democratic values, development and prosperity to benefit all member states. As major contributors, we also prioritise improving its efficiency and governance.
What happens at CHOGM?
The Commonwealth Heads of Government Meeting (CHOGM) happens every two years. It is an opportunity for heads of Commonwealth Member States to discuss key issues. The current Chairman is Tanzania's Foreign Minister Hon Bernard Membe.
Trade
The Commonwealth contains some of the fastest growing new economies in the world, with a combined GDP that has more than doubled in the last twenty years.

The Commonwealth exports over $3trillion [£1.9trillion] of goods and services a year and intra-Commonwealth trade in goods is valued at around £250 billion a year. It hosts over 200,000 listed companies. Investment growth in Commonwealth countries has consistently outperformed the global average since the financial crisis in 2008.

UK companies have around £100 billion invested in other Commonwealth countries and other commonwealth countries have over £40 billion invested in the UK. [UK investment in the EU in 2011 was £531 billion, UK investment in the USA £210 billion].

The Commonwealth is the source of £2.3 trillion of foreign direct investment globally, a key driver of economic growth
Published 10 March 2014