World news story
Celebrating collaboration – 5 years of RCUK India
A film on the UK and India long established relationship in science, research and innovation.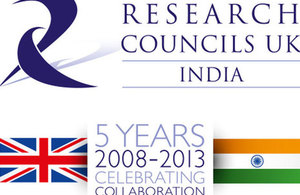 After hosting a series of events to commemorate 5 successful years of research partnership with India in November 2013, RCUK India now presents 'Celebrating Collaboration' - a film that illustrates strong UK-India research relationship and revives the moments of celebration.
The UK and India have a long established relationship in science, research and innovation, and RCUK India plays a key role in enhancing this relationship. Over the last five years this collaboration has significantly increased and achieved great success from less than £1 million to over £150 million of jointly funded research programmes.
The research we fund is for designing new products, services and creating new knowledge to benefit both the UK and India, thereby emphasising that the research partnership is one of equals.
RCUK India has facilitated an impressive portfolio of over 80 high-quality and high-impact research projects, involving more than 90 industry partners.
RCUK India is committed to developing a strong and strategic partnership with India, on high quality research focused on jointly agreed priorities.
The celebratory event in November 2013 brought together all the key partners i.e. researchers, funding agencies, policy makers, government official from both the UK and India in a splendid display of the strength of this UK-India research bond.
Follow us on Twitter, Facebook, Flickr, YouTube, LinkedIn, Storify, Eventbrite, Blogs, Foursqare
Published 24 February 2014