World news story
Celebrating achievements of students from Delhi slums
The renowned Delhi-based charity, Asha, has been supporting bright students from the slums into higher education since 2008.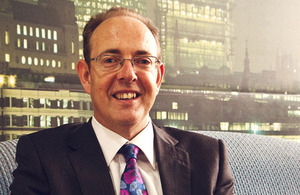 British High Commissioner, Sir James Bevan will be the hosting an event to showcase the achievements of hundreds of students who, thanks to Asha, are now thriving at prestigious educational institutions across the capital.
The event will celebrate the students' accomplishments through classical song and dance, a display of fashions and textiles, and a photography exhibit, as well as testimony from the students themselves and from those who have supported and employed them. Sponsors for the evening are BAE Systems, F1F9 and the Sushant School of Design.
Looking forward to the event, British High Commissioner Sir James Bevan said:
Education expands life chances, challenges gender and caste discrimination and equips future generations for sustainable development. Despite dramatic progress in India, there is no space for complacency - the last 10% are always the hardest to reach. Fortunately we have groups such as Asha and the UK's Department for International Development that work tirelessly on this agenda.
Asha founder and director Dr Kiran Martin said:
For children in the slums, even finishing primary school is a challenge. Access to schools and books is difficult, and parents struggle to see the benefits of education. Our higher education programme aims to ensure that bright students from Asha slums have the opportunity to go to university, and to seek professional jobs''.
Among other guests Dean McCumiskey, Managing Director and Chief Executive India, BAE Systems, Professor Mike Knowles, Dean of the Sushant School of Design and Kenny-Whitelaw-Jones, Managing Director of F1F9 are likely to attend.
Further information:
Programme details:
Date: Friday, 25 October 2013
Time: 1930-2030 hrs
High Commissioner's Speech: 2000 hrs
Venue: British high Commissioner's Residence, 2 Rajaji Marg, New Delhi

Asha is a community health and development society that works with over 400,000 people in nearly 50 slum colonies in Delhi. Founded in 1988 by Dr. Kiran Martin, a paediatrician, Asha is providing slum dwellers with the tools necessary to break out of their cycles of poverty and to transform their lives. Asha aims to make lasting benefits in the lives of slum dwellers through empowerment, healthcare, education, financial inclusion and environmental improvement.

Asha's ground-breaking Higher Education Programme was launched in 2008 and includes intensive advice and support, scholarships for the prospective students who need those most, professional mentors, and work experience in some of the capital's elite organisations. Over 900 children have been admitted to college through this programme, and the first graduates are finding work.
Marcus Winsley, Director,
Press and Communications
British High Commission,
Chanakyapuri, New Delhi 110021
Tel: 44192100; Fax: 24192411

Mail to: chandeep.kaur@fco.gov.uk
Follow UK in India on Twitter, Facebook, Flickr, YouTube, LinkedIn, Storify, Eventbrite, Blogs, Foursqare
Published 25 October 2013