World news story
Celebrating "A Young Commonwealth" in Cameroon
The official Commonwealth Day observance events in Cameroon's capital, Yaounde, took place from the 9th to the 12th of March 2015.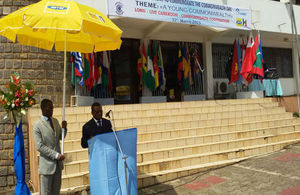 The celebration of the 2015 edition of the Commonwealth Day under the theme "A Young Commonwealth", took place for a whole week in Cameroon. Activities which ranged from a Commonwealth youth march, radio and television talk shows, a Commonwealth Youth conference started on the 9th of March, the official date for the Commonwealth Day, all over the national territory and ran through till the 12th of March.
The official Commonwealth Day observance ceremony held on the 12th of March, at the premises of the Ministry of External Relations, in Yaounde. The ceremony presided over by the Cameroonian minister for External Relations, Pierre Moukoko Mbonjo, was attended by the government ministers, Commonwealth diplomatic missions in the country, Commonwealth youth groups, young professionals invited from across the country and winners of the Queen's Young Leaders Awards for 2014.
Speaking at the observance ceremony, Cameroon's Commonwealth Minister, H.E. Joseph Dion Ngute mentioned the importance of the young people within the Commonwealth in the socio-economic and political growth of the group of nations. He said "if heads of states recognise that the youths are an assert, then they should ensure that they have a platform to present their problems. They are a vulnerable group and as such the problems of the youths can only be best presented by the youths".
External Relations minister, Pierre Moukoko Mbonjo, in his speech also stressed on the need to get young people in the Commonwealth and in the world involved in discussions in the structuring of the new Sustainable Development Goals-SDGs agreed as part of post 2015 MDGs. Adding that "the brilliance shown by young people thought out the activities set aside to mark the Commonwealth is proof enough that young people are indeed an asset . Their potential just needs to be harnessed".
The event witnessed to award of prizes funded by the British High Commission in Yaounde, to winners of the national Commonwealth Day essay competition. The three winners of the 2014 Queen's Young Leaders Awards winners from Cameroon, Alain Nteff, Mallah Tabot and Joannes Paulus Yimbesalu and the 2013 Africa regional Commonwealth Youth Worker Award winner, Nelly Shella Tchaptcheut Yonga , were given certificates of recognition from the government of Cameroon.
Published 16 March 2015