World news story
CDS affirms to Kahwaji UK's expanded support to the LAF
Chief of the Defence Staff announces further support in training and equipment to the LAF to counter contagion from the Syrian conflict.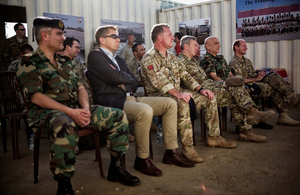 Chief of the Defence Staff, General Sir Nicholas Houghton visited Lebanon and met with Army Commander General Jean Kahwaji and senior officers on 21 October. This is his second visit to Lebanon.
Given the rising threats and challenges facing Lebanon, the two Generals discussed how the UK is helping in supporting the Lebanese Armed Forces in their efforts to maintain stability. They reiterated their shared intention to increase the current high level of engagement between their Armed Forces.
Speaking after his visit, General Houghton said:
I am impressed by the work done by the Lebanese Armed Forces (LAF) to safeguard Lebanon's security and sovereignty and contain the overspill from Syria. I confirmed to General Kahwaji the UK's commitment to Lebanon's stability and resilience. As part of this commitment, the UK intends to expand its ongoing 'train and equip' programme to strengthen the Land Border Regiments of the Lebanese Armed Forces. This will include Land Rover Defenders, Personal Protective Equipment, Protected Border Observation Posts, and Radio equipment. The UK remains firmly committed to our Lebanese allies.
Notes for editors
Chief of Defence Staff is the UK's most senior serving officer in the Armed Forces. General Houghton took up his position on 18 July 2013, with the approval of Her Majesty the Queen.

Practical UK support for Lebanon's stability has increased tenfold over the last two years. This includes a $16 million 'train and equip' programme to strengthen the Land Border Regiments of the Lebanese Armed Forces. These Regiments monitor 150km of Lebanon's border with Syria.

We have delivered 164 Land rovers and equipment: 1,500 sets of body armour, a secure radio communication network, border watchtowers, and HESCO bastion ballistic protection for LAF positions along the border.
Published 23 October 2014