News story
Case for further island devolution heard at Westminster
New Scottish Secretary meets delegation from Orkney, Shetland and Western Isles councils.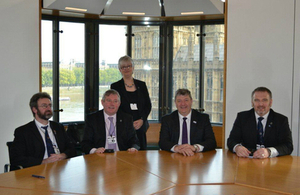 Exploring ways of devolving control over local decision making by Scottish islands local authorities is "well understood" in Whitehall, the Scottish Secretary has said.
Alistair Carmichael hosted a delegation from the Orkney, Shetland and Western Isles councils in Westminster for discussions on the future of governance on the islands. The two-day visit follows the creation of the "Our Islands, Our Future" campaign and the meeting with the Scottish Secretary culminated two days of meetings with senior officials and UK Government Ministers across Whitehall.
Mr Carmichael said it was important that the voices of those living on the islands were heard by both UK and Scottish governments and said their case would have "a friend and ally at Westminster" through him and the Scotland Office.
The Secretary of State said:
It was a pleasure to welcome the delegation to London. The meetings I have had with them were very productive.

This is very much the start of the 'nuts and bolts' discussion but the campaign and the UK Government do have a common ground to build on, a belief that greater decision making should rest with local communities.

As someone who lives, works and raises his family on Orkney, I know how strongly people feel about the centralisation of power, whether in London or Edinburgh. The question of how best to make local decisions in the future and issues such as the control of the seabed around our island communities are important issues and we need to look at them closely and constructively.

I hope that the messages the delegation will take back to Lerwick, Kirkwall and Stornoway is that as Scottish Secretary they have a friend and ally in Westminster and that following their meetings the campaign is well understood by Whitehall.
Published 16 October 2013