Carmichael welcomes Highland broadband roll-out
UK Government cash helps bring high speed broadband to rural Scotland.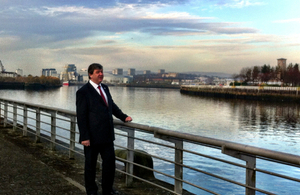 Superfast broadband has gone live in Buckie today as part of a progamme to roll-out high-speed fibre broadband to Scotland.
Scottish Secretary Alistair Carmichael has welcomed today's announcement that the first cabinet bringing high-speed fibre broadband to rural Scotland has now gone live in the Moray town.
Speaking during a day of visiting business in the Highlands and Moray the Secretary of State stressed how important providing fast reliable broadband is for jobs, services and the economy.
He said:
Improving connectivity is essential if all parts of the UK are to benefit from our recovering economy as business starts to grow again.

Today is a successful milestone for BT and HIE and a further step in delivering the UK Government's commitment to achieve a transformation in broadband across the country by 2015. The UK Government has allocated over £100m, 20% of its rural broadband budget, to Scotland to help ensure the widest possible coverage for fast, reliable fibre broadband.

This week I am visiting businesses in the Highlands and north east Scotland it is clear how important broadband is for supporting jobs, services and the economy across the Highlands and Islands. With this first cabinet going live we will start to see the difference this will make to Buckie, and up and down the country as other local communities follow in the coming months.

The Digital Scotland projects for the Highlands and Islands and for the rest of Scotland are great examples of devolution working for the Scottish people with targeted local projects benefiting from UK Government funding and programme support.
Published 18 February 2014