News story
Carmichael welcomes creation of new Scottish businesses
Scottish Secretary praises entrepreneurial scheme.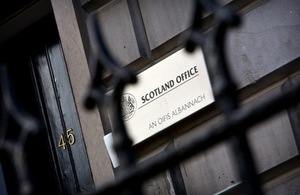 The Secretary of State for Scotland has praised a UK Government scheme to help jobseekers become their own boss as new figures have shown that it has created almost 2,500 new Scottish businesses.
Launched in 2011, the New Enterprise Allowance (NEA) offers expert mentoring and financial support to jobseekers who want to start up their own business, helping them turn their business ideas into successful enterprises.
New figures show that of the 2,500 new businesses, 360 have been created in Lanarkshire, 270 in Edinburgh, 260 in Glasgow and 90 in Dundee. Last week's Autumn Statement also confirmed that this popular scheme will be extended until 2016.
Alistair Carmichael said:
"The New Enterprise Allowance is a fantastic scheme and these new figures show that it is going from strength to strength in Scotland. This underlines my belief that the spirit of Scottish entrepreneurship is very much alive and with the correct support and advice the only barrier should be your imagination.
"As these figures illustrate the work the NEA mentors are doing up and down the country is phenomenal. Helping budding entrepreneurs become their own boss helps inspire confidence, creates more jobs and adds to the backbone of our economy."
Under the New Enterprise Allowance, jobseekers interested in setting up their own business are teamed up with a mentor, giving them invaluable guidance and support in drawing up a business plan. Those who can show their idea is viable are then eligible for funding to help them get their proposal off the ground.
The scheme aims to create sustainable businesses that have future growth potential as well as helping unemployed people to see self-employment as a viable route off benefits. It was recently extended so people can get help from a mentor on the first day on Jobseekers Allowance, instead of having to wait three months.
Published 12 December 2013