News story
Carmichael welcomes Commission's commitment to delivery of new powers
Scottish Secretary responds to Lord Smith's statement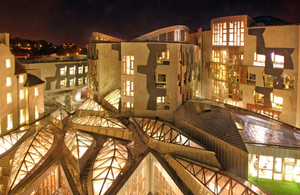 Ahead of meeting the Presiding Officer and representatives of each of Scotland's five political parties at Holyrood, Lord Smith of Kelvin has set out details of his Commission on delivering further powers for the Scottish Parliament.
Welcoming the statement the Secretary of State for Scotland Alistair Carmichael said:
I welcome the strong commitment to the practical delivery of new powers Lord Smith has outlined today.
It is a clear statement of his intent to work closely with all the political parties in Scotland to strengthen the Scottish Parliament and to follow through on the pledges which have been made to people in Scotland.
As he says, it will require commitment and focus on the part of all those involved but the process has hit the ground running and I am confident we can find common ground quickly and constructively.
We should also be clear that this process is taking place in the context of an overwhelming vote by the people of Scotland to remain in the UK. The Government will assist in any way it can during Lord Smith's Commission and I look forward to playing my part as we build on the success of Scottish devolution as part of the UK.
Published 23 September 2014