News story
Carmichael warns against currency chaos
Scottish Secretary says Scottish Government's refusal to prepare an independence currency plan could leave Scotland exposed.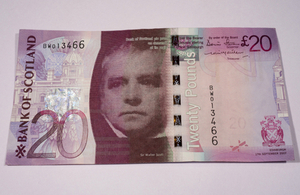 The refusal of the Scottish Government to prepare a currency plan for independence would leave Scotland badly exposed in the event of a yes vote, Scottish Secretary Alistair Carmichael will warn today.
He will say that the Scottish Government's refusal to set out a new currency plan in light of clear factual statement by the three main UK parties risks leaving Scotland with no guarantee things would work out. The UK Government took the step after receiving formal advice on the practicalities of a currency union with an independent Scotland.
Speaking to international media in London, Mr Carmichael will say that it is difficult to see how an independent Scotland could resolve the currency conundrum which the Scottish Government has created.
He will say that exposing such currency chaos to a watching world would be damaging for our international standing.
Alistair Carmichael will say:
The Scottish Government's refusal to prepare a currency plan for independence would leave Scotland badly exposed.

The UK political parties all agree that a currency union is not going to happen. This isn't a bluff, it's a fact. A currency union has been ruled out because it would be bad for Scotland and bad for the continuing UK. The most recent polls show this is bringing much needed clarity to the currency debate.

This leaves three other currency options. The Euro, a Panama-style arrangement with the UK Pound or creating a new currency from scratch. The Scottish Government has so far refused to set out a new plan, instead preferring to throw slurs at those who have set out the facts. Let's hope this week's hastily reconvened Scottish Government Fiscal Commission meeting starts to shed some light otherwise Scotland outside the UK would be left with no guarantee that things were going to work out.

Right now it is difficult to see how Scotland would resolve the currency conundrum that the Scottish Government would have created for us.

We would be looking for EU membership, a Euro opt out and choosing between a new currency or sterlingisation all at the same time. This seems like an insurmountable challenge, especially if you want to do it all in time for the independence day parade you have arranged for March 2016.

A yes vote would mean that this currency chaos would be played out in front of a watching world. It would be very damaging to our reputation as most would have expected that those promoting independence might have thought about currency before then.
Published 4 March 2014