News story
Independence referendum – Jobs and opportunities must drive debate
Scottish independence referendum must focus on how to create jobs and opportunities says the new Scottish Secretary.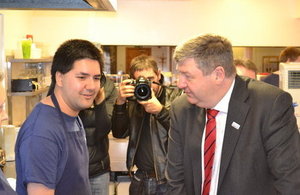 The debate on Scotland's future must focus on how to create jobs and opportunities for people across all parts of our society, the Secretary of State for Scotland said today.
On his first visit since his appointment, Alistair Carmichael visited the Engine Shed in Edinburgh, a social enterprise for people with learning disabilities.
As well as providing a training environment a number of businesses operate at the Engine Shed including a vegetarian café, organic bakery, organic tofu production and conference/catering facilities. This allows individuals to develop valuable experience with employers and gain relevant vocational qualifications providing a vital stepping stone into employment within mainstream workplaces.
The Secretary of State said:
I was delighted to visit to the Engine Shed today. It is a fantastic example of an organisation doing great work at the heart of community and helping people get on in life.

Social enterprises bring many advantages to wider society. They create jobs in the economy and are a dynamic way of providing life changing experiences for individuals and communities. When they benefit, society in Scotland benefits.
The Secretary of State stressed that this would be the first of many visits across Scotland in his new role.
Mr Carmichael added:
Over the coming weeks and months ahead I will be arguing passionately for the many reasons Scotland should remain part of the United Kingdom. I want to see a strong, informed debate which includes everyone across the country and one which will provide them with the information they need to make this important decision.

That is an essential element of my job, but we cannot afford to take our eyes off the ball when it comes to working day in and day out to improve the lives of families and communities in the here and now. Building a stronger economy in a fairer society will be top of my agenda as I travel the length and breadth of Scotland.
Published 10 October 2013