News story
Carmichael: JMC 'too important an opportunity to waste'
Scottish Secretary comments ahead of attending Joint Ministerial Committee.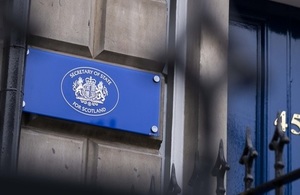 The Joint Ministerial Committee (JMC) is a chance for the UK's governments to work together in the common interest, the Scottish Secretary Alistair Carmichael said today.
Speaking ahead of the meeting in London on Wednesday, he said:
I am looking forward to attending my first JMC Plenary since becoming the Scottish Secretary.

We all know there is going to be a referendum in Scotland. That doesn't mean our day-to-day business is on hold. Five million people are counting on the UK and Scottish Governments to work together to make their lives better.

The JMC is where all of the UK's governments can look at ways of working together in our common interest, find opportunities to help people in Scotland and right across the UK, and deal with issues in a practical and positive way. In the past it has dealt with a wide range of issues, from energy to child poverty.

It's not a chance we can afford to miss. I am hoping the First Minister will come to the meeting in that spirit. This is not the place for a negative approach or trotting out a list of grievances. At the end of the day it is his choice but people in Scotland will take notice of which path he chooses to take tomorrow.

For my part, and the part of other Coalition government ministers, our main focus will be on growing our economy and helping business to create jobs, especially for our young people and those who have been out of work for a long time.
Published 15 October 2013