News story
Carmichael hosts 2013 Poppyscotland appeal launch
Scottish Secretary pays tribute to efforts of veterans' charity Poppyscotland.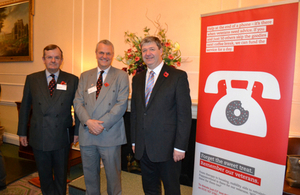 Scottish Secretary Alistair Carmichael has paid tribute to efforts of a leading veterans' charity as he hosted a reception for Poppyscotland at Dover House in London to mark the launch of the 2013 Scottish Poppy Appeal.
Founded in 1921 as The Earl Haig Fund Scotland, Poppyscotland is the leading charity supporting ex-service personnel and their families in Scotland. The poppies used in Scotland for the appeal are made at Lady Haig's Poppy Factory by 40 veterans with disabilities. They hand-assemble five million poppies and 10,000 wreaths for the Appeal.
The assembly of poppies and wreaths is a year-round process as are the efforts of Poppyscotland who raise over £2 million each year to provide financial assistance to thousands of ex-Servicemen and women as well as helping to fund specialist services such as long term care, housing and employment.
Mr Carmichael said:
It was a great pleasure to host Poppyscotland at the home of the Scotland Office in London. For many years the Poppy has been an iconic sign of respect for everyone across the country to pay tribute to the exceptional sacrifices that so many of our servicemen and women have made on our behalf.

Those who have served their country deserve as much support as we can offer. The public donations Poppyscotland receive through this appeal are vital to the work they do in providing life-changing support to veterans and their families throughout the year. I hope tonight's reception - ahead of next year's centenary of the start of the First World War - will be the start of another successful appeal.
Published 23 October 2013