News story
Carmichael comments on economic figures
Latest GDP figures show growth for Scotland.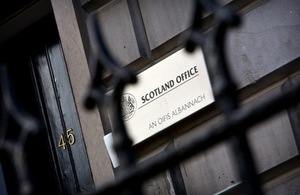 News that Scotland's GDP grew by 0.7% in the third quarter of 2013 show Scotland is firmly on the road to economic recovery as part of the UK, according to Scottish Secretary Alistair Carmichael.
Mr Carmichael said:
Today's positive GDP figures show that Scotland is firmly on the road to recovery as part of the UK. Despite uncertain global conditions it is welcome news to see that Scotland's economy has continued to grow into the second half of 2013.

This Government's long term economic plan is working and Scotland's economy is successful and stronger as part of the UK with its security, scale and influence. The UK's economic growth is now stronger than the main economies in Europe, the deficit is falling and jobs are being created.

The UK Government continues to work hard to create a stable platform for sustained growth in our economy benefiting businesses and individuals across Scotland. We have increased the Scottish Government's budget by almost £2.2bn, we will abolish employer National Insurance contributions for under 21s supporting 138,000 jobs for young people in Scotland and by 2014-15 we will have taken 224,000 Scots out of income tax altogether.
Published 15 January 2014