World news story
Career Expo Macedonia
Ambassador Christopher Yvon shares his experience with the next generation of young employees in Macedonia.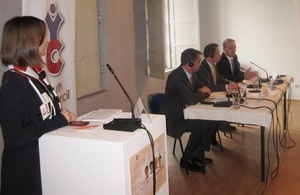 Diplomats, businessmen and civil society stakeholders were among the motivational speakers to address the young audience at the Career Expo Macedonia 2013 event. Speakers talked about their personal experiences and tips for success which could help careers starters in tailoring their future employment opportunities.
Our Ambassador Christopher Yvon shared the panel with Antonio Miloshoski, former foreign minister and current Chief of the Parliamentary Committee on Foreign Affairs and Bart Putney, Deputy Head of Mission at the US Embassy.
Speaking to the students, Ambassador Yvon said:
Based on my own experience, you need a blend of learning, leadership and luck. Success requires constant learning and self-development, together with a firm understanding of your motivations and values before choosing your ultimate career. But the learning never stops. Leadership does not mean necessarily for you to be a leader within your career, but to lead yourself and your own career pathway. Having a vision, engaging with others and then delivering against your goals. And often you need a bit of luck too – you can't predict or plan everything.
Career Expo is an event organised by the Youth Council of the US Embassy to Macedonia. It serves to offer information and identify career development needs for students in their finishing school years or young entrepreneurs and researchers.
Published 10 October 2013