World news story
Capacity building for media sector in Macedonia
British Embassy supports Macedonian public broadcaster to develop and implement guidelines for election process coverage.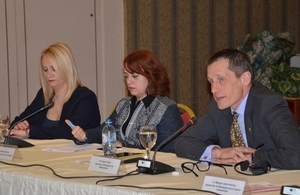 Balance, impartiality and independence of media are essential ingredients of free and fair elections. That was the focus of the event today in Skopje when we launched the Guidelines for the Macedonian Public Broadcaster for coverage of election processes (PDF, 496KB, 13 pages) . The central goal of these Election Guidelines is to raise quality, in particular through strengthening capacity for professional and balanced reporting during the election period.
Our ambassador Charles Garrett shared the panel with Marjan Cvetkovski, the General Manager of the Macedonian Radio Television and Marina Tuneva, Director of the Council of Media Ethics, who presented the Principles. Ambassador Garrett said:
In any democratic society, the media, especially the broadcast media, are a key player. They serve as public watchdog, calling leaders and others to account. They ask the questions of politicians that their audiences would like to ask themselves. And in doing this, they can make a powerful contribution to pluralism, to democratic development and dialogue. The broadcast media have a duty to provide election coverage that gives the voter comprehensive, accurate and reliable information on all aspects of the elections. They must ensure that they are giving voters the information they need to make informed choices. They have a responsibility to be professional and impartial in their election reporting and not to discriminate against any one political party or candidate.
The Election Guidelines are part of the programme assistance that the British Embassy provides to stakeholders in Macedonia for strengthening the media sector. They were developed by Macedonian media professionals with the support of BBC Media Action. The project is the result of cooperation between the BBC's Media Action team in London, the British Embassy in Skopje and Macedonian Radio Television. The Macedonian Institute for Media is facilitating the project, which has had valuable contribution by the Council for Media Ethics.
British Embassy Skopje runs a range of programme assistance in Macedonia providing support in range of reform areas with judiciary, human rights, democracy, media and civil society. To find out more about our programme assistance click here.
Remarks by Ambassador Charles Garrett at the launch of Election Guidelines.
Connect with us on Facebook or follow us @ukinmacedonia
Connect with the British Ambassador on Facebook or @BritAmbCGarrett
Read our blog UK in Macedonia
Published 27 January 2016