World news story
UK campaigns for more commitment to tackle corruption in Cameroon
The launch of the expansion of the Business Coalition Against Corruption (BCAC) took place in the presence of the FCO's Director for Africa.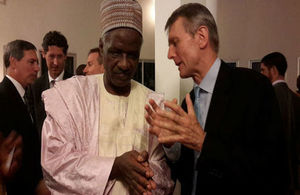 The British High Commissioner, Brian Olley hosted a reception on 4 October at his Residence in Yaounde to launch the expansion of the BCAC to include in future British, Canadian, Italian, French and US companies in Cameroon.
The reception was in the presence of Mr. Neil Wigan, the Director of Africa, Foreign and Commonwealth Office, London. Members of host government attending the reception included the Minister for Public Contracts, His Excellency Abba Sadou, the Minister for Communications, His Excellency Issa Tchiroma Bakary and the Supreme State Audit Minister, Mme. Mbah Acha. Ambassadors and High Commissioners from the BCAC member countries were also present alongside other Heads of Diplomatic Missions, the President of the National Anti-Corruption Commission, the Secretary General of National Agency for Financial Investigation and the Director General of Taxation. Businesses were also represented with seniour executives from over 35 companies both international and Cameroonian attending.
Speaking at the reception, the current Chairman of the BCAC, Mr. Raph Manyi who is also Country Representative of Dana Petroleum, and Mr Kimani Mwaura, Managing Director of Diageo/Guinness Cameroun S.A. described the objectives and achievements of the BCAC. They highlighted how the Coalition helps member companies develop the skills needed to address corruption in the context of business. Mr. Manyi encouraged the new companies engaged through the expansion process to actively support the BCAC initiative in the months and years to come with the aim of sharing and developing better governance, compliance and anti-corruption measures.
Earlier during the day, the BCAC held a workshop at the Hilton Hotel with the support of the Managing Director of Hilton Cameroon, Mr. Jean-Francois Nogue. The event brought together company chief executives and compliance managers who received information on activities of the Coalition as well as best practices propagated. Speakers at the event included Mr. Joel Nana Kontchou, CEO of ENEO/Actis and Mr. Kimani Mwaura, Managing Director of DIAGEO/Guinness Cameroun S.A. – two CEOs of pioneer members of the BCAC. Both chief executives shared their experience on working to eliminate corruption in their businesses through rigorous and well-adapted compliance procedures.
Published 12 October 2016